Tipifarnib, Free base - CAS 192185-72-1
Tipifarnib (Cat No.: I002461) is a highly potent and selective inhibitor of farnesyltransferase (FTase), an enzyme involved in protein prenylation. It exerts its most significant antiproliferative effects in cells with mutations in H-ras or N-ras genes. By inhibiting FTase, Tipifarnib disrupts the prenylation process critical for the activation of Ras proteins, which are involved in cell signaling and growth. This specific targeting of mutant Ras-driven pathways makes Tipifarnib a promising candidate for cancer therapy, particularly in cases where Ras mutations play a prominent role in the disease's progression. If you need to, please contact us in time, and we will reply to you as soon as possible within 24 hours.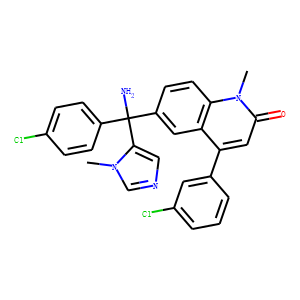 Molecular Formula: C₂₇H₂₂Cl₂N₄O
Molecular Weight:489.40
* For research use only. Not for human or veterinary use.
Synonym
| | |
| --- | --- |
| Synonyms | 6-[(R)-amino-(4-chlorophenyl)-(3-methylimidazol-4-yl)methyl]-4-(3-chlorophenyl)-1-methylquinolin-2-one |
Property
| | |
| --- | --- |
| Molecular Formula: | C₂₇H₂₂Cl₂N₄O |
| Molecular Weight | 489.40 |
| Target: | Transferase |
| Solubility | 10 mM in DMSO |
| Purity | ≥95% |
| Storage | -20°C |
| MDL | MFCD09837802 |
| IC50 | 0.6 nM |
Computed Descriptor
| | |
| --- | --- |
| IUPAC Name | 6-[(R)-amino-(4-chlorophenyl)-(3-methylimidazol-4-yl)methyl]-4-(3-chlorophenyl)-1-methylquinolin-2-one |
| InChI | InChI=1S/C27H22Cl2N4O/c1-32-16-31-15-25(32)27(30,18-6-9-20(28)10-7-18)19-8-11-24-23(13-19)22(14-26(34)33(24)2)17-4-3-5-21(29)12-17/h3-16H,30H2,1-2H3/t27-/m1/s1 |
| InChIKey | PLHJCIYEEKOWNM-HHHXNRCGSA-N |
| SMILES | CN1C=NC=C1C(C2=CC=C(C=C2)Cl)(C3=CC4=C(C=C3)N(C(=O)C=C4C5=CC(=CC=C5)Cl)C)N |