Thymosin beta 4 - CAS 77591-33-4
Thymosinβ4 (CAT: I004859), a polypeptide isolated from the calf thymus, is present in a number of cell lines unrelated to reticuloendothelial cells, including myoblasts and fibroblasts. At present, it is mainly used in the research of inhibiting cell proliferation, migration, and invasion. This product is mainly used in medical research and development and other scientific research purposes.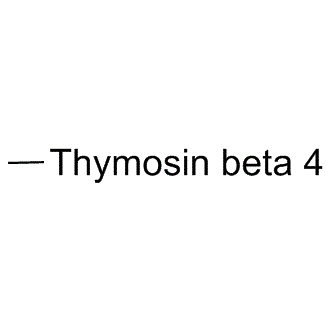 Molecular Formula: C212H350N56O78S
Molecular Weight:4963.506
* For research use only. Not for human or veterinary use.
Property
| | |
| --- | --- |
| Molecular Formula: | C212H350N56O78S |
| Molecular Weight | 4963.506 |
| Solubility | H2O |
| Purity | ≥95% |
| Storage | Store at -20°C |
Computed Descriptor
| | |
| --- | --- |
| IUPAC Name | 4-[[2-[2-[[2-[[2-[[2-[[2-[[2-[[2-[[2-[[2-[[2-[[2-[[1-[2-[[1-[2-[[2-[[2-[[2-[[2-[[2-[[2-[[2-[[2-[[2-[[2-[[2-[[2-[[2-[[2-[[2-[[2-[[2-[[2-[2-[[2-[[2-[[1-[2-[[2-[(2-acetamido-3-hydroxypropanoyl)amino]-3-carboxypropanoyl]amino]-6-aminohexanoyl]pyrrolidine-2-carbonyl]amino]-3-carboxypropanoyl]amino]-4-methylsulfanylbutanoyl]amino]propanoylamino]-4-carboxybutanoyl]amino]-3-methylpentanoyl]amino]-4-carboxybutanoyl]amino]-6-aminohexanoyl]amino]-3-phenylpropanoyl]amino]-3-carboxypropanoyl]amino]-6-aminohexanoyl]amino]-3-hydroxypropanoyl]amino]-6-aminohexanoyl]amino]-4-methylpentanoyl]amino]-6-aminohexanoyl]amino]-6-aminohexanoyl]amino]-3-hydroxybutanoyl]amino]-4-carboxybutanoyl]amino]-3-hydroxybutanoyl]amino]-5-amino-5-oxopentanoyl]amino]-4-carboxybutanoyl]amino]-6-aminohexanoyl]amino]-4-amino-4-oxobutanoyl]pyrrolidine-2-carbonyl]amino]-4-methylpentanoyl]pyrrolidine-2-carbonyl]amino]-3-hydroxypropanoyl]amino]-6-aminohexanoyl]amino]-4-carboxybutanoyl]amino]-3-hydroxybutanoyl]amino]-3-methylpentanoyl]amino]-4-carboxybutanoyl]amino]-5-amino-5-oxopentanoyl]amino]-4-carboxybutanoyl]amino]-6-aminohexanoyl]amino]-5-amino-5-oxopentanoyl]amino]propanoylamino]acetyl]amino]-5-[(1-carboxy-2-hydroxyethyl)amino]-5-oxopentanoic acid |
| InChI | InChI=1S/C212H350N56O78S/c1-16-106(7)166(261-190(323)131(64-75-160(292)293)231-172(305)109(10)228-174(307)134(78-91-347-15)245-196(329)140(98-165(302)303)255-201(334)147-53-39-88-266(147)209(342)135(52-29-38-87-221)250-197(330)139(97-164(300)301)254-198(331)143(100-269)229-113(14)276)204(337)246-129(62-73-158(288)289)187(320)233-118(47-24-33-82-216)179(312)252-137(94-114-42-19-18-20-43-114)194(327)253-138(96-163(298)299)195(328)237-121(50-27-36-85-219)181(314)258-144(101-270)199(332)239-119(48-25-34-83-217)178(311)251-136(92-104(3)4)193(326)236-116(45-22-31-80-214)175(308)235-122(51-28-37-86-220)189(322)263-168(110(11)273)207(340)249-133(66-77-162(296)297)192(325)264-169(111(12)274)206(339)248-126(58-69-152(224)279)184(317)243-128(61-72-157(286)287)186(319)234-120(49-26-35-84-218)180(313)256-142(95-153(225)280)211(344)268-90-40-54-148(268)202(335)257-141(93-105(5)6)210(343)267-89-41-55-149(267)203(336)259-145(102-271)200(333)238-117(46-23-32-81-215)177(310)244-132(65-76-161(294)295)191(324)265-170(112(13)275)208(341)262-167(107(8)17-2)205(338)247-130(63-74-159(290)291)188(321)241-125(57-68-151(223)278)183(316)242-127(60-71-156(284)285)185(318)232-115(44-21-30-79-213)176(309)240-124(56-67-150(222)277)173(306)227-108(9)171(304)226-99-154(281)230-123(59-70-155(282)283)182(315)260-146(103-272)212(345)346/h18-20,42-43,104-112,115-149,166-170,269-275H,16-17,21-41,44-103,213-221H2,1-15H3,(H2,222,277)(H2,223,278)(H2,224,279)(H2,225,280)(H,226,304)(H,227,306)(H,228,307)(H,229,276)(H,230,281)(H,231,305)(H,232,318)(H,233,320)(H,234,319)(H,235,308)(H,236,326)(H,237,328)(H,238,333)(H,239,332)(H,240,309)(H,241,321)(H,242,316)(H,243,317)(H,244,310)(H,245,329)(H,246,337)(H,247,338)(H,248,339)(H,249,340)(H,250,330)(H,251,311)(H,252,312)(H,253,327)(H,254,331)(H,255,334)(H,256,313)(H,257,335)(H,258,314)(H,259,336)(H,260,315)(H,261,323)(H,262,341)(H,263,322)(H,264,325)(H,265,324)(H,282,283)(H,284,285)(H,286,287)(H,288,289)(H,290,291)(H,292,293)(H,294,295)(H,296,297)(H,298,299)(H,300,301)(H,302,303)(H,345,346)/t106-,107-,108-,109-,110+,111+,112+,115-,116-,117-,118-,119-,120-,121-,122-,123-,124-,125-,126-,127-,128-,129-,130-,131-,132-,133-,134-,135-,136-,137-,138-,139-,140-,141-,142-,143-,144-,145-,146-,147-,148-,149-,166-,167-,168-,169-,170-/m0/s1 |
| InChIKey | UGPMCIBIHRSCBV-XNBOLLIBSA-N |
| SMILES | CCC(C)C(C(=O)NC(CCC(=O)O)C(=O)NC(CCCCN)C(=O)NC(CC1=CC=CC=C1)C(=O)NC(CC(=O)O)C(=O)NC(CCCCN)C(=O)NC(CO)C(=O)NC(CCCCN)C(=O)NC(CC(C)C)C(=O)NC(CCCCN)C(=O)NC(CCCCN)C(=O)NC(C(C)O)C(=O)NC(CCC(=O)O)C(=O)NC(C(C)O)C(=O)NC(CCC(=O)N)C(=O)NC(CCC(=O)O)C(=O)NC(CCCCN)C(=O)NC(CC(=O)N)C(=O)N2CCCC2C(=O)NC(CC(C)C)C(=O)N3CCCC3C(=O)NC(CO)C(=O)NC(CCCCN)C(=O)NC(CCC(=O)O)C(=O)NC(C(C)O)C(=O)NC(C(C)CC)C(=O)NC(CCC(=O)O)C(=O)NC(CCC(=O)N)C(=O)NC(CCC(=O)O)C(=O)NC(CCCCN)C(=O)NC(CCC(=O)N)C(=O)NC(C)C(=O)NCC(=O)NC(CCC(=O)O)C(=O)NC(CO)C(=O)O)NC(=O)C(CCC(=O)O)NC(=O)C(C)NC(=O)C(CCSC)NC(=O)C(CC(=O)O)NC(=O)C4CCCN4C(=O)C(CCCCN)NC(=O)C(CC(=O)O)NC(=O)C(CO)NC(=O)C |