Thienamycin - CAS 59995-64-1
Thienamycin (CAT: R0623241) is a naturally occurring antibiotic produced by the bacteria Streptomyces cattleya. It is a member of the beta-lactam family of antibiotics, which also includes penicillins and cephalosporins. Thienamycin is structurally distinct from other beta-lactam antibiotics, as it contains a thiazolidine ring in addition to the beta-lactam ring. It is a broad-spectrum antibiotic with activity against both Gram-positive and Gram-negative bacteria, including some strains that are resistant to other antibiotics. Thienamycin is used clinically to treat a variety of bacterial infections, including those caused by Pseudomonas aeruginosa and other multidrug-resistant bacteria.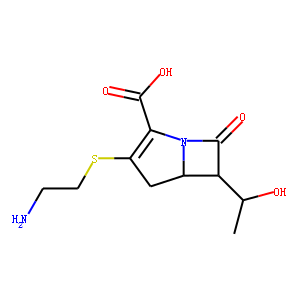 Molecular Formula: C11H16N2O4S
Molecular Weight:272.319
* For research use only. Not for human or veterinary use.
Synonym
| | |
| --- | --- |
| Synonyms | (5R,6S)-3-[(2-Aminoethyl)thio]-6-[(1R)-1-hydroxyethyl]-7-oxo-1-azabicyclo[3.2.0]hept-2-ene-2-carboxylic acid;?[5R-[5α,6α(R*)]]-3-[(2-Aminoethyl)thio]-6-(1-hydroxyethyl)-7-oxo-1-azabicyclo[3.2.0]hept-2-ene-2-carboxylic acid; (+)-Thienamycin |
Property
| | |
| --- | --- |
| Molecular Formula: | C11H16N2O4S |
| Molecular Weight | 272.319 |
| Purity | ≥95% |
| Storage | Room temperature |
Computed Descriptor
| | |
| --- | --- |
| IUPAC Name | (5R,6S)-3-(2-aminoethylsulfanyl)-6-[(1R)-1-hydroxyethyl]-7-oxo-1-azabicyclo[3.2.0]hept-2-ene-2-carboxylic acid |
| InChI | InChI=1S/C11H16N2O4S/c1-5(14)8-6-4-7(18-3-2-12)9(11(16)17)13(6)10(8)15/h5-6,8,14H,2-4,12H2,1H3,(H,16,17)/t5-,6-,8-/m1/s1 |
| InChIKey | WKDDRNSBRWANNC-ATRFCDNQSA-N |
| SMILES | CC(C1C2CC(=C(N2C1=O)C(=O)O)SCCN)O |