Tetraacetylethylenediamine - CAS 10543-57-4
Tetraacetylethylenediamine (Cat.No:M063053) is a versatile chemical compound commonly used as a bleach activator in laundry detergents. It enhances the bleaching effectiveness of hydrogen peroxide by generating peroxyacetic acid. This compound finds extensive application in household and industrial laundry processes for efficient stain removal and fabric brightening.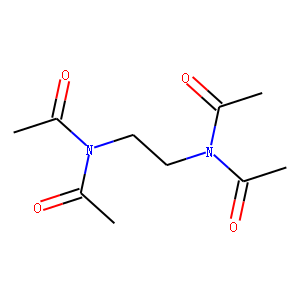 Molecular Formula: C10H16N2O4
Molecular Weight:228.248
* For research use only. Not for human or veterinary use.
Property
| | |
| --- | --- |
| Molecular Formula: | C10H16N2O4 |
| Molecular Weight | 228.248 |
| Purity | ≥95% |
| Storage | Store at -20°C |
Computed Descriptor
| | |
| --- | --- |
| IUPAC Name | N-acetyl-N-[2-(diacetylamino)ethyl]acetamide |
| InChI | InChI=1S/C10H16N2O4/c1-7(13)11(8(2)14)5-6-12(9(3)15)10(4)16/h5-6H2,1-4H3 |
| InChIKey | BGRWYDHXPHLNKA-UHFFFAOYSA-N |
| SMILES | CC(=O)N(CCN(C(=O)C)C(=O)C)C(=O)C |