Tenapanor HCl - CAS 1234365-97-9 (2HCl)
Tenapanor HCl (CAT: I009752) is an inhibitor of the sodium-proton (Na(+)/H(+)) exchanger NHE3. NHE3 is involved in regulating sodium absorption and fluid balance in the gastrointestinal tract and kidneys. By inhibiting NHE3, tenapanor reduces sodium absorption, leading to increased excretion of sodium in the stool. This mechanism of action results in decreased intestinal sodium absorption, leading to potential therapeutic applications in conditions such as irritable bowel syndrome with constipation (IBS-C) and chronic kidney disease.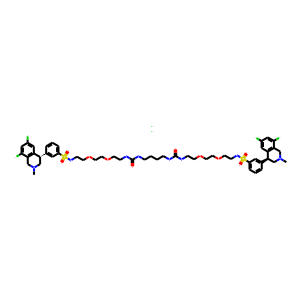 CAS Number: 1234365-97-9 (2HCl)
Molecular Formula: C50H68Cl6N8O10S2
Molecular Weight:1217.96
* For research use only. Not for human or veterinary use.
Synonym
| | |
| --- | --- |
| Synonyms | AZD-1722; AZD 1722; AZD1722; RDX 5791; RDX-5791; RDX5791; Tenapanor; Tenapanor hydrochloride; Tenapanor dihydrochloride;3-((S)-6,8-dichloro-2-methyl-1,2,3,4-tetrahydroisoquinolin-4-yl)-N-(26-((3-((S)-6,8-dichloro-2-methyl-1,2,3,4-tetrahydroisoquinoli |
Property
| | |
| --- | --- |
| Molecular Formula: | C50H68Cl6N8O10S2 |
| Molecular Weight | 1217.96 |
| Target: | Na+/H+ exchanger 3 (NHE3) inhibitor |
| Solubility | Soluble in DMSO and water |
| Purity | ≥95% |
| Storage | 0 - 4 °C for short term, or -20 °C for long term |
Computed Descriptor
| | |
| --- | --- |
| InChI | InChI=1S/C50H66Cl4N8O10S2.2ClH/c1-61-31-43(41-27-37(51)29-47(53)45(41)33-61)35-7-5-9-39(25-35)73(65,66)59-15-19-71-23-21-69-17-13-57-49(63)55-11-3-4-12-56-50(64)58-14-18-70-22-24-72-20-16-60-74(67,68)40-10-6-8-36(26-40)44-32-62(2)34-46-42(44)28-38(52)30-4 |
| InChIKey | VFRAXTZDILCRKY-OWRGXFNZSA-N |
| SMILES | O=S(C1=CC=CC([C@@H]2CN(C)CC3=C2C=C(Cl)C=C3Cl)=C1)(NCCOCCOCCNC(NCCCCNC(NCCOCCOCCNS(=O)(C4=CC=CC([C@@H]5CN(C)CC6=C5C=C(Cl)C=C6Cl)=C4)=O)=O)=O)=O.[H]Cl.[H]Cl |