Temozolomide- CAS 85622-93-1
Temozolomide (CAT: A001097), also known as SCH 52365, MB39831, and RP46161, is a triazene analog of dacarbazine with antineoplastic activity. As a cytotoxic alkylating agent, the cytotoxicity of MTIC is due primarily to the methylation of DNA at the O6 and N7 positions of guanine, resulting in the inhibition of DNA replication. This product is used for medical research and development and other scientific research purposes.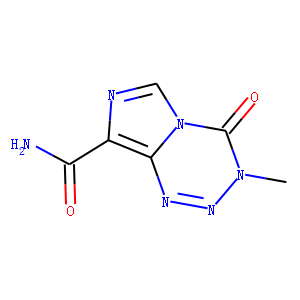 Catalog Number: A001097
CAS Number: 85622-93-1
PubChem Substance ID:354326212
Molecular Formula: C6H6N6O2
Molecular Weight:194.2
Purity: ≥95%
* For research use only. Not for human or veterinary use.
Synonym
| | |
| --- | --- |
| Synonyms | CCRG81045, NSC 362856 |
Property
| | |
| --- | --- |
| Molecular Formula: | C6H6N6O2 |
| Molecular Weight | 194.2 |
| Target: | DNA Alkylating |
| Solubility | >6.6mg/mL in DMSO |
| Purity | ≥95% |
| Storage | 3 years -20C powder |
| Overview of Clinical Research | <span style="font-size:12px;"><span style="font-family:arial,helvetica,sans-serif;"><span style="color:#000000;">Temozolomide is an alkylating agent and a DNA cross linking agent as well as a DNA synthesis inhibitor. It has been granted for the orphan drug status in&nbsp;Glioblastoma; Anaplastic astrocytoma; Malignant melanoma.</span></span></span> |
Computed Descriptor
| | |
| --- | --- |
| IUPAC Name | 3-methyl-4-oxoimidazo[5,1-d][1,2,3,5]tetrazine-8-carboxamide |
| InChI | InChI=1S/C6H6N6O2/c1-11-6(14)12-2-8-3(4(7)13)5(12)9-10-11/h2H,1H3,(H2,7,13) |
| InChIKey | BPEGJWRSRHCHSN-UHFFFAOYSA-N |
| SMILES | CN1N=NC2=C(C(N)=O)N=CN2C1=O |