Tadalafil - CAS 171596-29-5
Tadalafil(CAT: A000256) also known as IC351, is a PDE5 inhibitor marketed in pill form for treating erectile dysfunction (ED) under the name Cialis, and under the name Adcirca for the treatment of pulmonary arterial hypertension. This product is used for medical research and development.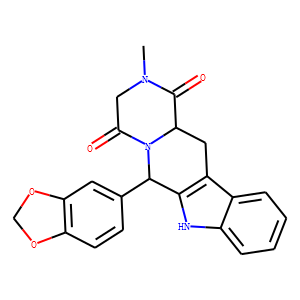 Molecular Formula: C22H19N3O4
Molecular Weight:389.4
* For research use only. Not for human or veterinary use.
Synonym
| | |
| --- | --- |
| Synonyms | Cialis; 171596-29-5; Tadanafil; Ic351; ADCIRCA |
Property
| | |
| --- | --- |
| Molecular Formula: | C22H19N3O4 |
| Molecular Weight | 389.4 |
| Target: | PDE |
| Solubility | >16.6mg/mL in DMSO |
| Purity | ≥95% |
| Storage | -20°C |
Computed Descriptor
| | |
| --- | --- |
| InChI | 1S/C22H19N3O4/c1-24-10-19(26)25-16(22(24)27)9-14-13-4-2-3-5-15(13)23-20(14)21(25)12-6-7-17-18(8-12)29-11-28-17/h2-8,16,21,23H,9-11H2,1H3/t16-,21-/m1/s1 |
| InChIKey | WOXKDUGGOYFFRN-IIBYNOLFSA-N |
| SMILES | CN1CC(=O)N2C(C1=O)CC3=C(C2C4=CC5=C(C=C4)OCO5)NC6=CC=CC=C36 |