Strictosamide - CAS 23141-25-5
Strictosamide (CAS 23141-25-5) possesses antibacterial and antiviral activities with important effects on inflammation and inflammatory pain. Strictosamide is slightly toxic to Charles River mouse (LD(50)=723.17 mg/kg), producing CNS depression and kidney toxicity. Strictosamide has nonsignificant in vitro and in vivo effect on kidney Na(+),K(+)-ATPase activity but produced an in vivo increase of Na(+),K(+)-ATPase activity of brain.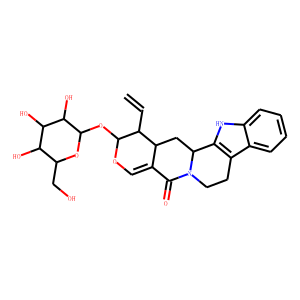 Molecular Formula: C26H30N2O8
Molecular Weight:498.532
* For research use only. Not for human or veterinary use.
Property
| | |
| --- | --- |
| Molecular Formula: | C26H30N2O8 |
| Molecular Weight | 498.532 |
| Purity | ≥95% |
Computed Descriptor
| | |
| --- | --- |
| IUPAC Name | (1S,18S,19R,20S)-19-ethenyl-18-[(2S,3R,4S,5S,6R)-3,4,5-trihydroxy-6-(hydroxymethyl)oxan-2-yl]oxy-17-oxa-3,13-diazapentacyclo[11.8.0.02,10.04,9.015,20]henicosa-2(10),4,6,8,15-pentaen-14-one |
| InChI | InChI=1S/C26H30N2O8/c1-2-12-15-9-18-20-14(13-5-3-4-6-17(13)27-20)7-8-28(18)24(33)16(15)11-34-25(12)36-26-23(32)22(31)21(30)19(10-29)35-26/h2-6,11-12,15,18-19,21-23,25-27,29-32H,1,7-10H2/t12-,15+,18+,19-,21-,22+,23-,25+,26+/m1/s1 |
| InChIKey | LBRPLJCNRZUXLS-IUNANRIWSA-N |
| SMILES | C=CC1C2CC3C4=C(CCN3C(=O)C2=COC1OC5C(C(C(C(O5)CO)O)O)O)C6=CC=CC=C6N4 |