STM2457- CAS 2499663-01-1
STM2457 is a highly potent and selective first-in-class catalytic inhibitor of METTL3. Treatment of tumours with STM2457 leads to reduced AML growth and an increase in differentiation and apoptosis. These cellular effects are accompanied by selective reduction of m6A levels on known leukaemogenic mRNAs and a decrease in their expression consistent with a translational defect. Pharmacological inhibition of METTL3 in vivo leads to impaired engraftment and prolonged survival in various mouse models of AML, specifically targeting key stem cell subpopulations of AML.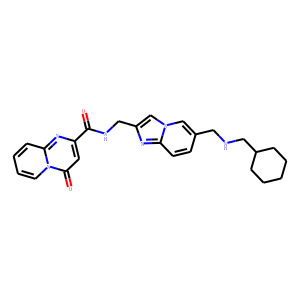 Catalog Number: I036728
CAS Number: 2499663-01-1
Molecular Formula: C25H28N6O2
Molecular Weight:444.539
Purity: 98.0%
Appearance:Solid powder
* For research use only. Not for human or veterinary use.
Synonym
| | |
| --- | --- |
| Synonyms | STM2457; STM-2457; STM 2457; |
Property
| | |
| --- | --- |
| Molecular Formula: | C25H28N6O2 |
| Molecular Weight | 444.539 |
| Solubility | To be determined |
| Purity | 98.0% |
| Storage | Dry, dark and at 0 - 4 C for short term (days to weeks) or -20 C for long term (months to years). |
Computed Descriptor
| | |
| --- | --- |
| IUPAC Name | N-((6-(((cyclohexylmethyl)amino)methyl)imidazo[1,2-a]pyridin-2-yl)methyl)-4-oxo-4H-pyrido[1,2-a]pyrimidine-2-carboxamide |
| InChI | InChI=1S/C25H28N6O2/c32-24-12-21(29-23-8-4-5-11-31(23)24)25(33)27-15-20-17-30-16-19(9-10-22(30)28-20)14-26-13-18-6-2-1-3-7-18/h4-5,8-12,16-18,26H,1-3,6-7,13-15H2,(H,27,33) |
| InChIKey | OBERVORNENYOLE-UHFFFAOYSA-N |
| SMILES | C1=CC=CC2=NC(C(=O)NCC3N=C4C=CC(CNCC5CCCCC5)=CN4C=3)=CC(=O)N12 |