SPD-304 - CAS 869998-49-2
SPD-304 (CAT: I009569) is an inhibitor of tumor necrosis factor α (TNFα), specifically targeting its binding to the TNF receptor 1 (TNFR1). With an IC50 of 22 µM, SPD-304 effectively blocks the interaction between TNFα and TNFR1. TNFα is a cytokine involved in inflammatory processes and immune responses. The inhibition of TNFα signaling by SPD-304 may have implications in the treatment of conditions characterized by excessive TNFα activity, such as inflammatory disorders. Additionally, both TNFα and the angiotensin II/angiotensin II receptor type 1 (AT1) axis have been implicated in neuropathic pain and nociception, suggesting a potential role for SPD-304 in modulating these processes.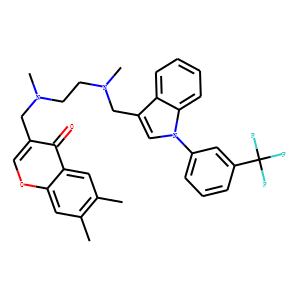 Molecular Formula: C32H32F3N3O2
Molecular Weight:547.622
* For research use only. Not for human or veterinary use.
Synonym
| | |
| --- | --- |
| Synonyms | SPD-304, SPD 304, SPD304.;6,7-dimethyl-3-[[methyl[2-[methyl[[1-[3-(trifluoromethyl)phenyl]-1H-indol-3-yl]methyl]amino]ethyl]amino]methyl]-4H-1-benzopyran-4-one |
Property
| | |
| --- | --- |
| Molecular Formula: | C32H32F3N3O2 |
| Molecular Weight | 547.622 |
| Target: | TNFα inhibitor |
| Solubility | Soluble in DMSO |
| Purity | ≥95% |
| Storage | -20°C |
Computed Descriptor
| | |
| --- | --- |
| IUPAC Name | 6,7-dimethyl-3-[[methyl-[2-[methyl-[[1-[3-(trifluoromethyl)phenyl]indol-3-yl]methyl]amino]ethyl]amino]methyl]chromen-4-one |
| InChI | InChI=1S/C32H32F3N3O2/c1-21-14-28-30(15-22(21)2)40-20-24(31(28)39)18-37(4)13-12-36(3)17-23-19-38(29-11-6-5-10-27(23)29)26-9-7-8-25(16-26)32(33,34)35/h5-11,14-16,19-20H,12-13,17-18H2,1-4H3 |
| InChIKey | JZNXLPPJRFFECJ-UHFFFAOYSA-N |
| SMILES | CC1=C(C=C2C(=C1)C(=O)C(=CO2)CN(C)CCN(C)CC3=CN(C4=CC=CC=C43)C5=CC=CC(=C5)C(F)(F)F)C |