Sodium phosphate tribasic dodecahydrate - CAS 10101-89-0
Sodium phosphate tribasic dodecahydrate(Cat No.:M120059), is a chemical compound with a versatile range of applications. It is commonly used in the pharmaceutical industry as a pH buffer in various drug formulations, helping maintain the desired pH levels for stability and efficacy. In the food industry, it serves as a food additive, emulsifier, and texturizer in processed foods. Moreover, sodium phosphate tribasic dodecahydrate is utilized in water treatment processes to control pH, inhibit scale formation, and prevent corrosion.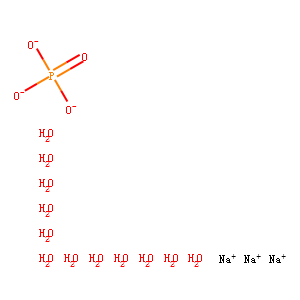 Molecular Formula: H24Na3O16P
Molecular Weight:380.12
* For research use only. Not for human or veterinary use.
Property
| | |
| --- | --- |
| Molecular Formula: | H24Na3O16P |
| Molecular Weight | 380.12 |
| Purity | ≥95% |
| Storage | -20°C |
Computed Descriptor
| | |
| --- | --- |
| IUPAC Name | trisodium;phosphate;dodecahydrate |
| InChI | InChI=1S/3Na.H3O4P.12H2O/c;;;1-5(2,3)4;;;;;;;;;;;;/h;;;(H3,1,2,3,4);12*1H2/q3*+1;;;;;;;;;;;;;/p-3 |
| InChIKey | ASTWEMOBIXQPPV-UHFFFAOYSA-K |
| SMILES | O.O.O.O.O.O.O.O.O.O.O.O.[O-]P(=O)([O-])[O-].[Na+].[Na+].[Na+] |