Sodium lactate (60% in water) - CAS 72-17-3
Sodium lactate (Cat. No: R070904) is an acid-base balance regulator with strong moisturizing and prevents water loss. It can be used for food preservation, moisturizing, flavoring, and pharmaceutical raw materials.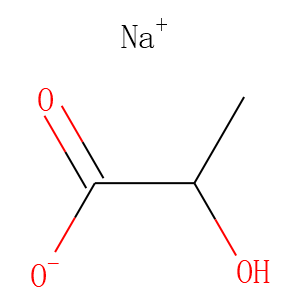 Molecular Formula: C3H5NaO3
Molecular Weight:112.06
* For research use only. Not for human or veterinary use.
Property
| | |
| --- | --- |
| Molecular Formula: | C3H5NaO3 |
| Molecular Weight | 112.06 |
| Purity | ≥95% |
| Storage | RT |
Computed Descriptor
| | |
| --- | --- |
| IUPAC Name | sodium;2-hydroxypropanoate |
| InChI | InChI=1S/C3H6O3.Na/c1-2(4)3(5)6;/h2,4H,1H3,(H,5,6);/q;+1/p-1 |
| InChIKey | NGSFWBMYFKHRBD-UHFFFAOYSA-M |
| SMILES | CC(C(=O)[O-])O.[Na+] |