SMI-16a - CAS 587852-28-6
SMI-16a(Cat No.:I013451), is a chemical compound with significance in pharmacology and molecular biology research. It is often employed as an experimental tool in laboratories to study cellular processes and signaling pathways. While the specific mechanisms of SMI-16a may vary depending on the research context, it is generally known to affect various cellular functions, making it valuable in investigating the roles of specific molecular targets. By inhibiting or modulating these targets, SMI-16a contributes to our understanding of fundamental biological processes and may have potential applications in drug development or the development of novel therapies for specific diseases and conditions.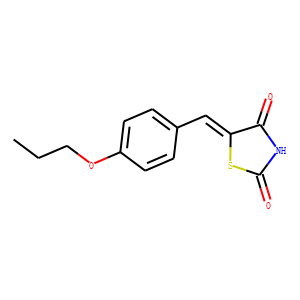 Molecular Formula: C₁₃H₁₃NO₃S
Molecular Weight:263.31
* For research use only. Not for human or veterinary use.
Property
| | |
| --- | --- |
| Molecular Formula: | C₁₃H₁₃NO₃S |
| Molecular Weight | 263.31 |
| Target: | Pim |
| Solubility | DMSO: ≥150 mg/mL |
| Purity | ≥95% |
| Storage | 2-8°C(protect from light) |
Computed Descriptor
| | |
| --- | --- |
| IUPAC Name | (5E)-5-[(4-propoxyphenyl)methylidene]-1,3-thiazolidine-2,4-dione |
| InChI | InChI=1S/C13H13NO3S/c1-2-7-17-10-5-3-9(4-6-10)8-11-12(15)14-13(16)18-11/h3-6,8H,2,7H2,1H3,(H,14,15,16)/b11-8+ |
| InChIKey | GBWOSXZUTXXXQF-DHZHZOJOSA-N |
| SMILES | CCCOC1=CC=C(C=C1)C=C2C(=O)NC(=O)S2 |