SILICON DISULFIDE - CAS 13759-10-9
SILICON DISULFIDE(CAT: M064662) is a white fibrous crystalline inorganic in the rhemiform or square crystalline system, stable at room temperature and pressure, and easily decomposed in the presence of moisture. This product is used in chemical research and development and other scientific research fields.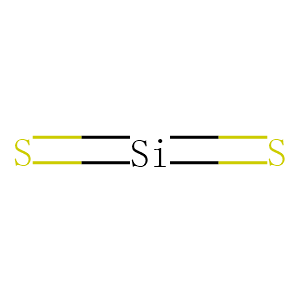 Molecular Formula: S2Si
Molecular Weight:92.205
* For research use only. Not for human or veterinary use.
Property
| | |
| --- | --- |
| Molecular Formula: | S2Si |
| Molecular Weight | 92.205 |
| Purity | ≥95% |
| Storage | Store at -20°C |
Computed Descriptor
| | |
| --- | --- |
| IUPAC Name | bis(sulfanylidene)silane |
| InChI | InChI=1S/S2Si/c1-3-2 |
| InChIKey | KHDSWONFYIAAPE-UHFFFAOYSA-N |
| SMILES | [Si](=S)=S |