SEL24-B489 HCl - CAS 1616359-00-2
SEL24-B489 HCl(Cat No.:I036190) is a novel, orally available, dual PIM/FLT3 kinase inhibitor. It inhibits FLT3 wild-type and FLT3-ITD mutant kinase activities in nanomolar concentrations, leading to reduced proliferation and induction of apoptosis in acute myeloid leukemia (AML) cell lines and primary patient samples. In addition, SEL24-B489 HCl targets the PIM kinase family, which is involved in cell survival, proliferation, and drug resistance. This dual inhibition of FLT3 and PIM kinases makes SEL24-B489 HCl a promising candidate for the treatment of FLT3-mutant AML.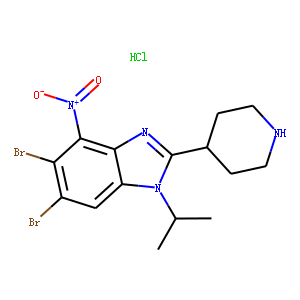 Molecular Formula: C15H19Br2ClN4O2
Molecular Weight:482.60
* For research use only. Not for human or veterinary use.
Synonym
| | |
| --- | --- |
| Synonyms | SEL24 Hydrochloride; SEL-24 Hydrochloride; SEL 24 Hydrochloride; SEL24 HCl; SEL 24 HCl; SEL-24 HCl; SEL24B489 HCl; SEL24 B489 HCl; SEL24-B489 HCl |
Property
| | |
| --- | --- |
| Molecular Formula: | C15H19Br2ClN4O2 |
| Molecular Weight | 482.60 |
| Solubility | Soluble in DMSO |
| Purity | 98.0% |
| Storage | Store at -20°C |
Computed Descriptor
| | |
| --- | --- |
| IUPAC Name | 5,6-Dibromo-4-nitro-2-(piperidin-4-yl)-1-(propan-2-yl)-1H-1,3-benzodiazole hydrochloride |
| InChI | InChI=1S/C15H18Br2N4O2.ClH/c1-8(2)20-11-7-10(16)12(17)14(21(22)23)13(11)19-15(20)9-3-5-18-6-4-9;/h7-9,18H,3-6H2,1-2H3;1H |
| InChIKey | KQKOTVOYBRIGIT-UHFFFAOYSA-N |
| SMILES | CC(N1C(C2CCNCC2)=NC3=C([N+]([O-])=O)C(Br)=C(Br)C=C31)C.[H]Cl |