Secnidazole - CAS 3366-95-8
Secnidazole (Cat No.:A000802), also known as SYM-1219, is a nitroimidazole antiprotozoal and anaerobic drug with a structure and pharmacological action similar to that of metronidazole.It was originally developed by the French pharmaceutical company Rhone-PoulencRorer and is used to kill protozoa and anaerobic bacteria by disrupting DNA strands or inhibiting DNA synthesis during the growth phase of the protozoa or anaerobic bacteria.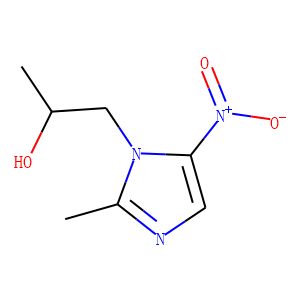 Molecular Formula: C7H11N3O3
Molecular Weight:185.2
* For research use only. Not for human or veterinary use.
Synonym
| | |
| --- | --- |
| Synonyms | 3366-95-8; Flagentyl; Secnidazol; Secnidazolum; Secnidazolum [INN-Latin] |
Property
| | |
| --- | --- |
| Molecular Formula: | C7H11N3O3 |
| Molecular Weight | 185.2 |
| Purity | ≥95% |
| Storage | -20°C |
Computed Descriptor
| | |
| --- | --- |
| InChI | 1S/C7H11N3O3/c1-5(11)4-9-6(2)8-3-7(9)10(12)13/h3,5,11H,4H2,1-2H3 |
| InChIKey | KPQZUUQMTUIKBP-UHFFFAOYSA-N |
| SMILES | CC1=NC=C(N1CC(C)O)[N+](=O)[O-] |