Secalciferol - CAS 55721-11-4
Secalciferol is a metabolite of Vitamin D, a possibly anti-inflammatory steroid which is involved in bone ossification.
IC50 value:
Target:
In addition, it is known that Secalciferol mediates calcium and phosphorus homeostasis. Also Secalciferol inhibits calcium channels in osteosarcoma cells via suppressing the effects of 1α, 25-dihydroxyvitamin D3 and testosterone. Alternate studies indicate that Secalciferol can decrease the abundance of p53 and Pi-induced cytochrome c translocation. Furthermore, Secalciferol can increase cell proliferation in resting zone (RC) chondrocytes and inhibits matrix enzymes by possibly inhibiting the degradation of the matrix.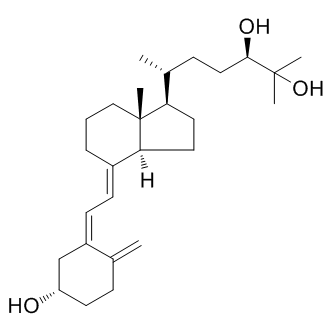 Molecular Formula: C27H44O3
Molecular Weight:416.64
* For research use only. Not for human or veterinary use.
Synonym
| | |
| --- | --- |
| Synonyms | (3R,6R)-6-[(1R,3aS,4E,7aR)-4-[(2Z)-2-[(5S)-5-hydroxy-2-methylidenecyclohexylidene]ethylidene]-7a-methyl-2,3,3a,5,6,7-hexahydro-1H-inden-1-yl]-2-methylheptane-2,3-diol |
Property
| | |
| --- | --- |
| Molecular Formula: | C27H44O3 |
| Molecular Weight | 416.64 |
| Target: | VD/VDR |
| Solubility | 10 mM in DMSO |
| Purity | ≥95% |
| Storage | Store at -20°C |