SC99 - CAS 882290-02-0
SC99(Cat No.:I036098) is a selective inhibitor of JAK2-STAT3 activation, a signaling pathway involved in cell proliferation and survival. By targeting this pathway, SC99 downregulates the expression of several genes modulated by STAT3, including Bcl-2, Bcl-xL, VEGF, cyclin D2, and E2F-1. This inhibition has potential therapeutic implications in various diseases characterized by dysregulated JAK2-STAT3 signaling, such as cancer.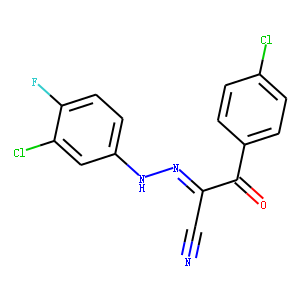 Molecular Formula: C15H8Cl2FN3O
Molecular Weight:336.15
* For research use only. Not for human or veterinary use.
Synonym
| | |
| --- | --- |
| Synonyms | SC99; SC-99; SC 99 |
Property
| | |
| --- | --- |
| Molecular Formula: | C15H8Cl2FN3O |
| Molecular Weight | 336.15 |
| Solubility | Soluble in DMSO |
| Purity | 98.0% |
| Storage | Dry, dark and at 0 - 4 C for short term (days to weeks) or -20 C for long term (months to years). |
Computed Descriptor
| | |
| --- | --- |
| IUPAC Name | 2-(2-(3-Chloro-4-fluorophenyl)hydrazono)-3-(4-chlorophenyl)-3-oxo-propanenitrile |
| InChI | InChI=1S/C15H8Cl2FN3O/c16-10-3-1-9(2-4-10)15(22)14(8-19)21-20-11-5-6-13(18)12(17)7-11/h1-7,20H/b21-14+ |
| InChIKey | ZKULFSMYRSFHKE-KGENOOAVSA-N |
| SMILES | N#C/C(C(C1=CC=C(Cl)C=C1)=O)=NNC2=CC=C(F)C(Cl)=C2 |