SB-408124- CAS 288150-92-5
SB408124 is a non-peptide antagonist for OX1 receptor with Ki of 57 nM and 27 nM in both whole cell and membrane, respectively; exhibits 50-fold selectivity over OX2 receptor.
IC50 Value: 57 nM(Ki)
Target: OX1 Receptor
in vitro: SB-408124 binds hypocretin type 1 receptor (HcrtR1) with pKi values of 7.57. Calcium mobilization studies shows that SB-408124 is a functional antagonist of the OX1 receptor with a affinity of approximately 50-fold selectivity over the OX2 receptor. A recent study indicates that pretreatment of primary cultures of rat astrocytes with SB-401824 before Orexin A administration significantly reduced the stimulatory action of Orexin A on both basal and forskolin-acivated cAMP production.
in vivo: SB-408124 (30 μg/10 μL, administered intracerebroventricularly) decreases Orexin-A induced water intake in Wistar rats. Intracerebroventricularly administered Orexin-A (30 μg/10 μL) blocks the vasopressin (VP) level increase induced by either histamine or 2.5% NaCl administration, and this blocking effect is moderated by pretreatment with SB-408124. Intracerebroventricular pretreatment with SB-408124 (50 mM, 5 μL/h) prevents Bicuculline (BIC)-induced increases in endogenous glucose production (EGP).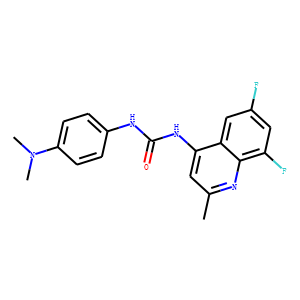 Molecular Formula: C19H18F2N4O
Molecular Weight:356.377
* For research use only. Not for human or veterinary use.
Synonym
| | |
| --- | --- |
| Synonyms | 1-(6,8-difluoro-2-methylquinolin-4-yl)-3-[4-(dimethylamino)phenyl]urea |
Property
| | |
| --- | --- |
| Molecular Formula: | C19H18F2N4O |
| Molecular Weight | 356.377 |
| Target: | OX Receptor |
| Solubility | DMSO 36 mg/mL; Water <1 mg/mL |
| Purity | ≥95% |
| Storage | 3 years -20C powder |
| IC50 | 57 nM(Ki) |
Computed Descriptor
| | |
| --- | --- |
| IUPAC Name | 1-(6,8-difluoro-2-methylquinolin-4-yl)-3-[4-(dimethylamino)phenyl]urea |
| InChI | InChI=1S/C19H18F2N4O/c1-11-8-17(15-9-12(20)10-16(21)18(15)22-11)24-19(26)23-13-4-6-14(7-5-13)25(2)3/h4-10H,1-3H3,(H2,22,23,24,26) |
| InChIKey | JTARFZSNUAGHRB-UHFFFAOYSA-N |
| SMILES | CC1=NC2=C(C=C(C=C2C(=C1)NC(=O)NC3=CC=C(C=C3)N(C)C)F)F |