Ripasudil monohydrochloride dihydrate - CAS 887375-67-9
Ripasudil(cas 887375-67-9) is an inhibitor of Rho-associated protein kinase (ROCK; IC50s = 51 and 19 nM for ROCK-I and ROCK-II, respectively). Formulations containing ripasudil are used to lower intraocular pressure in the context of glaucoma and ocular hypertension.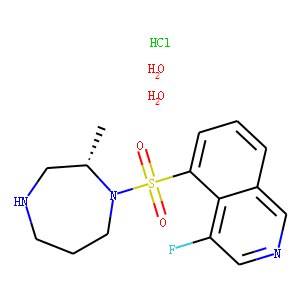 Molecular Formula: C15H18FN3O2S • HCl [2H2O]
Molecular Weight:395.9
* For research use only. Not for human or veterinary use.
Synonym
| | |
| --- | --- |
| Synonyms | Isoquinoline, 4-​fluoro-​5-​[[(2S)​-​hexahydro-​2-​methyl-​1H-​1,​4-​diazepin-​1-​yl]​sulfonyl]​-​, hydrochloride, hydrate (1:1:2) |
Property
| | |
| --- | --- |
| Molecular Formula: | C15H18FN3O2S • HCl [2H2O] |
| Molecular Weight | 395.9 |
| Target: | Rho |
| Solubility | Soluble in DMSO |
| Purity | ≥95% |
| Storage | Store at -20°C |
Computed Descriptor
| | |
| --- | --- |
| InChIKey | CMDJNMACGABCKQ-XVSRHIFFSA-N |
| SMILES | FC1=C2C(C=CC=C2S(N3CCCNC[C@@H]3C)(=O)=O)=CN=C1.Cl.O.O |