Rifabutin-d7 - CAS 2747918-39-2
Rifabutin-d7(CAT: C000322) is an isotopically labeled derivative of Rifabutin. Rifabutin is an antibiotic medication used in the treatment of various bacterial infections, including tuberculosis and Mycobacterium avium complex (MAC) infections in people with HIV/AIDS. Rifabutin-d7 likely serves as a stable isotope-labeled compound used in research, pharmacokinetic studies, or analytical chemistry. Isotope labeling provides a means to track and quantify the distribution and metabolism of the parent compound in biological samples, aiding in drug development and understanding the pharmacokinetics of Rifabutin.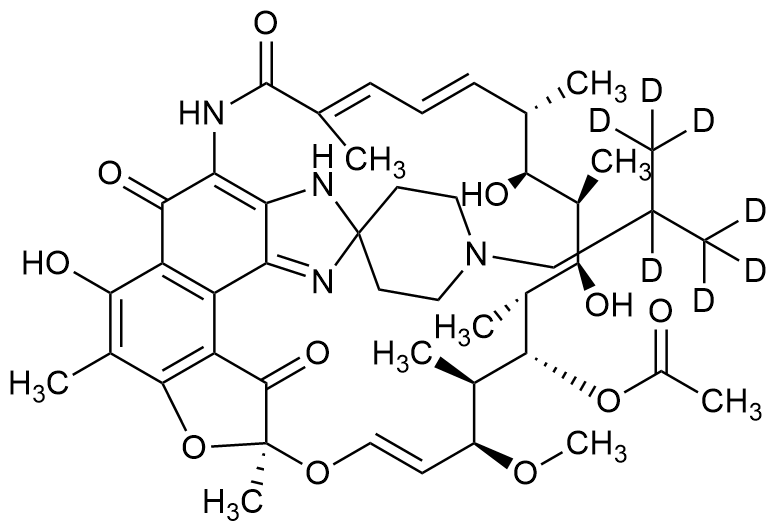 Molecular Formula: C₄₆H₅₆D₇N₄O₁₁
Molecular Weight:854.04
Appearance:Dark Red to Black Solid
* For research use only. Not for human or veterinary use.
Synonym
| | |
| --- | --- |
| Synonyms | 1′,4-Didehydro-1-deoxy-1,4-dihydro-5′-(2-methylpropyl)-1-oxorifamycin XIV-d7; Ansatipine-d7; Ansamycin-d7; Antibiotic LM 427-d7; LM 427-d7; Mycobutin-d7; Rifabutine-d7; |
Property
| | |
| --- | --- |
| Molecular Formula: | C₄₆H₅₆D₇N₄O₁₁ |
| Molecular Weight | 854.04 |
| Solubility | Chloroform (Slightly), Methanol (Slightly) |
| Purity | ≥95% |
| Storage | -20°C, Inert atmosphere, Light sensitive |