Rapamycin - CAS 53123-88-9
Rapamycin(A000450) is also known as Sirolimus, which is produced by the bacterium Streptomyces hygroscopicus. As a natural macrolide compound, it binds to immunophilin FK-binding protein-12 (FKBP-12) and inhibits the activation of mTOR, resulting in a blockage of T cell activation and proliferation. This product is used in medical research and development and other scientific research fields.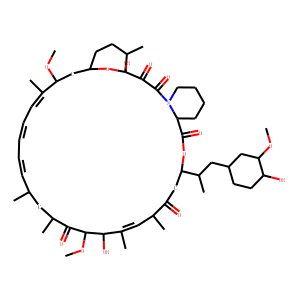 Molecular Formula: C51H79NO13
Molecular Weight:914.19
* For research use only. Not for human or veterinary use.
Synonym
| | |
| --- | --- |
| Synonyms | AY 22989;NSC-2260804;Sirolimus;Rapamycin |
Property
| | |
| --- | --- |
| Molecular Formula: | C51H79NO13 |
| Molecular Weight | 914.19 |
| Target: | mTOR |
| Solubility | >45.7mg/mL in DMSO |
| Purity | ≥95% |
| Storage | Desiccate at -20°C |
| MDL | MFCD00867594 |
| Overview of Clinical Research | <span style="font-family:arial,helvetica,sans-serif;"><span style="color:#000000;"><span style="font-size:12px;">Rapamycin is a&nbsp;<span style="caret-color: rgb(102, 102, 102); orphans: 2; widows: 2;">MTOR protein inhibitor and a T lymphocyte inhibitor. It receives the orphan drug status in&nbsp;</span><span style="font-variant-ligatures: normal; orphans: 2; widows: 2;">Lymphangioleiomyomatosis and Fibroma. The&nbsp;</span><span style="font-variant-ligatures: normal; orphans: 2; widows: 2;">Phase-III clinical trials in Neurofibromatosis 1 (In adults, In children, In the elderly) in Japan (unspecified route) (NCT04461886) started in 2020.</span></span></span></span> |
Computed Descriptor
| | |
| --- | --- |
| IUPAC Name | (1R,9S,12S,15R,16E,18R,19R,21R,23S,24E,26E,28E,30S,32S,35R)-1,18-dihydroxy-12-[(2R)-1-[(1S,3R,4R)-4-hydroxy-3-methoxycyclohexyl]propan-2-yl]-19,30-dimethoxy-15,17,21,23,29,35-hexamethyl-11,36-dioxa-4-azatricyclo[30.3.1.04,9]hexatriaconta-16,24,26,28-tetraene-2,3,10,14,20-pentone |
| InChI | InChI=1S/C51H79NO13/c1-30-16-12-11-13-17-31(2)42(61-8)28-38-21-19-36(7)51(60,65-38)48(57)49(58)52-23-15-14-18-39(52)50(59)64-43(33(4)26-37-20-22-40(53)44(27-37)62-9)29-41(54)32(3)25-35(6)46(56)47(63-10)45(55)34(5)24-30/h11-13,16-17,25,30,32-34,36-40,42-44 |
| InChIKey | QFJCIRLUMZQUOT-HPLJOQBZSA-N |
| SMILES | CC1CCC2CC(C(=CC=CC=CC(CC(C(=O)C(C(C(=CC(C(=O)CC(OC(=O)C3CCCCN3C(=O)C(=O)C1(O2)O)C(C)CC4CCC(C(C4)OC)O)C)C)O)OC)C)C)C)OC |