RAD140 - CAS 1182367-47-0
RAD140(CAT: I000022) also known as Testolone, is a potent, orally bioavailable, nonsteroidal selective androgen receptor modulator (SARM) that demonstrates an excellent affinity for the androgen receptor. This product is used for organic synthesis, pharmaceutical research and development, and other scientific purposes.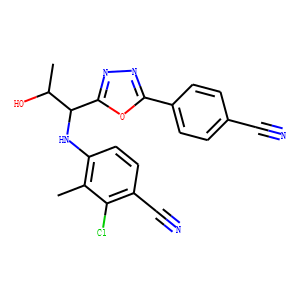 Molecular Formula: C20H16ClN5O2
Molecular Weight:393.83
Purity: ≥95%
Inventory:In stock
* For research use only. Not for human or veterinary use.
Synonym
| | |
| --- | --- |
| Synonyms | RAD-140; RAD 140; Testolone |
Property
| | |
| --- | --- |
| Molecular Formula: | C20H16ClN5O2 |
| Molecular Weight | 393.83 |
| Target: | androgen receptor (AR) |
| Solubility | 10 mM in DMSO |
| Purity | ≥95% |
| Storage | Stored at -20°C. |
| IC50 | 7 nM (Ki, fot androgen receptor) |
Computed Descriptor
| | |
| --- | --- |
| IUPAC Name | 2-chloro-4-[[(1R,2S)-1-[5-(4-cyanophenyl)-1,3,4-oxadiazol-2-yl]-2-hydroxypropyl]amino]-3-methylbenzonitrile |
| InChI | InChI=1S/C20H16ClN5O2/c1-11-16(8-7-15(10-23)17(11)21)24-18(12(2)27)20-26-25-19(28-20)14-5-3-13(9-22)4-6-14/h3-8,12,18,24,27H,1-2H3/t12-,18+/m0/s1 |
| InChIKey | XMBUPPIEVAFYHO-KPZWWZAWSA-N |
| SMILES | CC1=C(C=CC(=C1Cl)C#N)NC(C2=NN=C(O2)C3=CC=C(C=C3)C#N)C(C)O |