PSMA-11 free base - CAS 1366302-52-4
PSMA-11 free base(CAT: I035163), also known as DKFZ-PSMA-11 or HBED-CC-PSMA, is a ligand used for gallium Ga 68-labeled PSMA-11, a radiotracer for PET imaging of PSMA-expressing tumors. PSMA-11 targets PSMA, a membrane protein expressed on prostatic epithelial and prostate tumor cells. Upon intravenous administration of the radiotracer, PSMA-expressing tumor cells can be detected during PET imaging. PSMA-11 enables the diagnosis, staging, and monitoring of prostate cancer due to its high specificity for PSMA-expressing cells.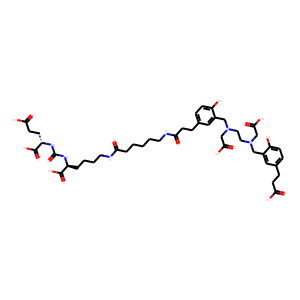 Molecular Formula: C44H62N6O17
Molecular Weight:947.005
* For research use only. Not for human or veterinary use.
Synonym
| | |
| --- | --- |
| Synonyms | DKFZ-​PSMA-​11; Psma-hbed-CC; PSMA-11; PSMA11; PSMA 11; HBED-CC-PSMA; PSMA-11 TFA; Psma-hbed-CC |
Property
| | |
| --- | --- |
| Molecular Formula: | C44H62N6O17 |
| Molecular Weight | 947.005 |
| Solubility | To be determined |
| Purity | 98.0% |
| Storage | Dry, dark and at 0 - 4 C for short term (days to weeks) or -20 C for long term (months to years). |
Computed Descriptor
| | |
| --- | --- |
| IUPAC Name | (3S,7S)-22-(3-(((2-((5-(2-Carboxyethyl)-2-hydroxybenzyl)(carboxymethyl)amino)ethyl)(carboxymethyl)amino)methyl)-4-hydroxyphenyl)-5,13,20-trioxo-4,6,12,19-tetraazadocosane-1,3,7-tricarboxylic acid |
| InChI | InChI=1S/C44H62N6O17/c51-34-13-8-28(22-30(34)24-49(26-40(59)60)20-21-50(27-41(61)62)25-31-23-29(9-14-35(31)52)11-16-38(55)56)10-15-37(54)46-18-4-1-2-7-36(53)45-19-5-3-6-32(42(63)64)47-44(67)48-33(43(65)66)12-17-39(57)58/h8-9,13-14,22-23,32-33,51-52H,1-7,10-12,15-21,24-27H2,(H,45,53)(H,46,54)(H,55,56)(H,57,58)(H,59,60)(H,61,62)(H,63,64)(H,65,66)(H2,47,48,67)/t32-,33-/m0/s1 |
| InChIKey | QJUIUFGOTBRHKP-LQJZCPKCSA-N |
| SMILES | O=C(O)CC[C@H](NC(N[C@@H](CCCCNC(CCCCCNC(CCC1=CC=C(O)C(CN(CC(O)=O)CCN(CC2=CC(CCC(O)=O)=CC=C2O)CC(O)=O)=C1)=O)=O)C(O)=O)=O)C(O)=O |