Propranolol HCl - CAS 318-98-9

Propranolol HCl (CAS 318-98-9) is a competitive non-selective beta-adrenergic receptors inhibitor with antianginal, antiarrhythmic, and antihypertensive properties (IC50 of 12 nM). Propranolol competitively antagonizes beta-adrenergic receptors, thereby inhibiting beta-adrenergic reactions, such as vasodilation, and negative chronotropic and inotropic effects.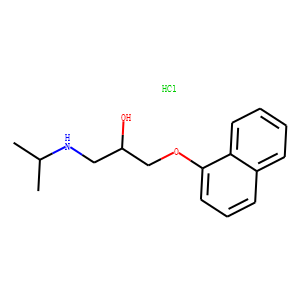 Molecular Formula: C16H21NO2.HCl
Molecular Weight:295.8
* For research use only. Not for human or veterinary use.
Synonym
| | |
| --- | --- |
| Synonyms | AY-64043, ICI-45520, NCS-91523 |
Property
| | |
| --- | --- |
| Molecular Formula: | C16H21NO2.HCl |
| Molecular Weight | 295.8 |
| Target: | Adrenergic Receptor |
| Solubility | >12.4mg/mL in DMSO |
| Purity | ≥95% |
| Storage | 3 years -20C powder |
Computed Descriptor
| | |
| --- | --- |
| IUPAC Name | 1-naphthalen-1-yloxy-3-(propan-2-ylamino)propan-2-ol;hydrochloride |
| InChI | InChI=1S/C16H21NO2.ClH/c1-12(2)17-10-14(18)11-19-16-9-5-7-13-6-3-4-8-15(13)16;/h3-9,12,14,17-18H,10-11H2,1-2H3;1H |
| InChIKey | ZMRUPTIKESYGQW-UHFFFAOYSA-N |
| SMILES | CC(C)NCC(COC1=CC=CC2=CC=CC=C21)O.Cl |