Propamidine isethionate - CAS 140-63-6
Propamidine isethionate(CAT: I035056) is a biologically active chemical compound. It is an antiseptic and antiprotozoal agent that is used for the treatment of various infections, particularly those caused by certain protozoa. Propamidine isethionate is commonly utilized in ophthalmic preparations to treat eye infections, such as conjunctivitis and keratitis. It works by disrupting the growth and replication of microorganisms, helping to eliminate the infection. Due to its antimicrobial properties, propamidine isethionate finds applications in both medical and veterinary settings for the management of ocular infections.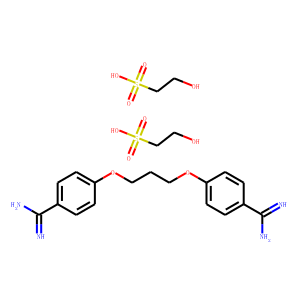 Molecular Formula: C21H32N4O10S2
Molecular Weight:564.625
* For research use only. Not for human or veterinary use.
Synonym
| | |
| --- | --- |
| Synonyms | Propamidine isethionate |
Property
| | |
| --- | --- |
| Molecular Formula: | C21H32N4O10S2 |
| Molecular Weight | 564.625 |
| Solubility | Soluble in DMSO |
| Purity | 98.0% |
| Storage | Dry, dark and at 0 - 4 C for short term (days to weeks) or -20 C for long term (months to years). |
Computed Descriptor
| | |
| --- | --- |
| IUPAC Name | Ethanesulfonic acid, 2-hydroxy-, compd. with 4,4'-(trimethylenedioxy)dibenzamidine (2:1) |
| InChI | InChI=1S/C17H20N4O2.2C2H6O4S/c18-16(19)12-2-6-14(7-3-12)22-10-1-11-23-15-8-4-13(5-9-15)17(20)21;2*3-1-2-7(4,5)6/h2-9H,1,10-11H2,(H3,18,19)(H3,20,21);2*3H,1-2H2,(H,4,5,6) |
| InChIKey | WSOSYBUSMXEYDO-UHFFFAOYSA-N |
| SMILES | OCCS(=O)(O)=O.OCCS(=O)(O)=O.N=C(N)C1=CC=C(OCCCOC2=CC=C(C=C2)C(N)=N)C=C1 |