Prezatide copper - CAS 89030-95-5
Prezatide(Cat No.: P000424) is a tripeptide consisting of glycine, histidine, and lysine which readily forms a complex with copper ions. Prezatide is used in cosmetic products for the skin and hair. It is known to aid wound healing and its potential applications in chronic obstructive pulmonary disease and metastatic colon cancer are currently being investigated.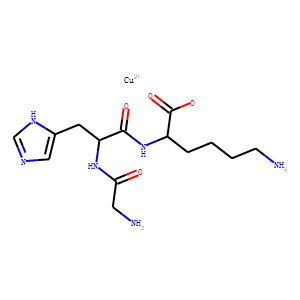 Molecular Formula: C14H23CuN6O4+
Molecular Weight:402.92
* For research use only. Not for human or veterinary use.
Synonym
| | |
| --- | --- |
| Synonyms | GHK copper; CG-copper peptide; Copper tripeptide-1; UNII-6BJQ43T1I9 |
Property
| | |
| --- | --- |
| Molecular Formula: | C14H23CuN6O4+ |
| Molecular Weight | 402.92 |
| Purity | 98.0% |
| Overview of Clinical Research | Originator: ProCyte Corporation<br /> Class: Antihyperglycaemics<br /> Mechanism of Action: Immunostimulants<br /> Orphan Drug Status: No |
| Analysis method | HPLC |
Computed Descriptor
| | |
| --- | --- |
| IUPAC Name | copper;(2S)-6-amino-2-[[(2S)-2-[(2-aminoacetyl)amino]-3-(1H-imidazol-5-yl)propanoyl]amino]hexanoate |
| InChI | InChI=1S/C14H24N6O4.Cu/c15-4-2-1-3-10(14(23)24)20-13(22)11(19-12(21)6-16)5-9-7-17-8-18-9;/h7-8,10-11H,1-6,15-16H2,(H,17,18)(H,19,21)(H,20,22)(H,23,24);/q;+2/p-1/t10-,11-;/m0./s1 |
| InChIKey | NZWIFMYRRCMYMN-ACMTZBLWSA-M |
| SMILES | C1=C(NC=N1)CC(C(=O)NC(CCCCN)C(=O)[O-])NC(=O)CN.[Cu+2] |