PQCA - CAS 1144504-35-7 (free)
PQCA(CAT: I008836) is a positive allosteric modulator of the muscarinic M1 receptor. It acts by binding to an allosteric site on the receptor and enhancing the activity of the receptor in response to the endogenous neurotransmitter acetylcholine. By modulating the M1 receptor, PQCA can influence various physiological processes mediated by this receptor subtype, including cognitive function and memory formation. As a positive allosteric modulator, PQCA enhances the receptor's response without directly activating it, offering a potential therapeutic approach for conditions associated with M1 receptor dysfunction or impairment.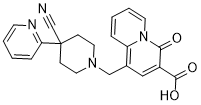 CAS Number: 1144504-35-7 (free)
Molecular Formula: C22H20N4O3
Molecular Weight:388.427
* For research use only. Not for human or veterinary use.
Synonym
| | |
| --- | --- |
| Synonyms | PQCA;1-((4-cyano-4-(pyridin-2-yl)piperidin-1-yl)methyl)-4-oxo-4H-quinolizine-3-carboxylic acid |
Property
| | |
| --- | --- |
| Molecular Formula: | C22H20N4O3 |
| Molecular Weight | 388.427 |
| Target: | M1 receptor positive allosteric modulator |
| Solubility | Soluble in DMSO, not in water |
| Purity | ≥95% |
| Storage | 0 - 4 °C for short term, or -20 °C for long term |