PP1 - CAS 172889-26-8
PP1 (CAT: I002248) is a potent and selective inhibitor of protein tyrosine kinases (PTKs). It is commonly used in research to investigate the function and signaling pathways of specific PTKs. PP1 has been employed in various studies to elucidate the roles of specific kinases in cellular processes and to evaluate their therapeutic potential.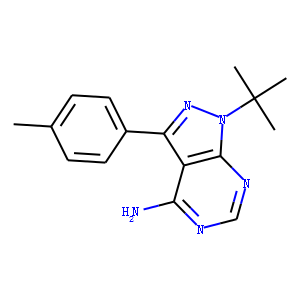 Molecular Formula: C₁₆H₁₉N₅
Molecular Weight:281.36
* For research use only. Not for human or veterinary use.
Synonym
| | |
| --- | --- |
| Synonyms | 1-tert-butyl-3-(4-methylphenyl)pyrazolo[3,4-d]pyrimidin-4-amine |
Property
| | |
| --- | --- |
| Molecular Formula: | C₁₆H₁₉N₅ |
| Molecular Weight | 281.36 |
| Target: | Src |
| Solubility | DMSO: 25 mg/mL |
| Purity | ≥95% |
| Storage | Store at 4°C |
| MDL | MFCD01076570 |
| IC50 | 0.2 uM (recombinant p60c-src); 0.1 uM (PDGF b-receptor in Swiss 3T3 cell) [1] |
Computed Descriptor
| | |
| --- | --- |
| IUPAC Name | 1-tert-butyl-3-(4-methylphenyl)pyrazolo[3,4-d]pyrimidin-4-amine |
| InChI | InChI=1S/C16H19N5/c1-10-5-7-11(8-6-10)13-12-14(17)18-9-19-15(12)21(20-13)16(2,3)4/h5-9H,1-4H3,(H2,17,18,19) |
| InChIKey | ZVPDNRVYHLRXLX-UHFFFAOYSA-N |
| SMILES | CC1=CC=C(C=C1)C2=NN(C3=C2C(=NC=N3)N)C(C)(C)C |