Polyquaternium-1 - CAS 75345-27-6
Polyquaternium-1 (Cat. No: R057476) is an antimicrobial preservative used for rabbit ocular surface study on polyquad-preserved travoprost/timolol, benzalkonium chloride-preserved travoprost/timolol, and latanoprost/timolol in fixed combinations.Ethanol, 2,2′,2″ -nitrilotris-, polymer with 1,4-dichloro-2-butene and N,N,N′,N′-tetramethyl-2-butene-1,4-diamine.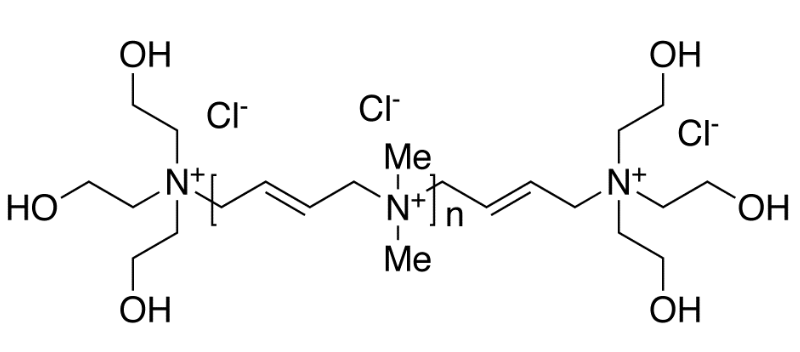 Molecular Formula: (C₆H₁₂ClN)n C₁₆H₃₆Cl₂N₂O₆
Molecular Weight:
* For research use only. Not for human or veterinary use.
Synonym
| | |
| --- | --- |
| Synonyms | α-[4-[Tris(2-hydroxyethyl)ammonio]-2-buten-1-yl]-ω-[tris(2-hydroxyethyl)ammonio]poly[(dimethyliminio)-2-butene-1,4-diyl Chloride] Chloride; Onamer M; Onyxsperse 12S; Polidronium Chloride; Polyquad; Polyquat 1; |
Property
| | |
| --- | --- |
| Molecular Formula: | (C₆H₁₂ClN)n C₁₆H₃₆Cl₂N₂O₆ |
| Molecular Weight | |
| Purity | ≥95% |
| Storage | -20°C |
Computed Descriptor
| | |
| --- | --- |
| IUPAC Name | dimethyl-bis[(E)-4-[tris(2-hydroxyethyl)azaniumyl]but-2-enyl]azanium;trichloride |
| InChI | InChI=1S/C22H48N3O6.3ClH/c1-23(2,7-3-5-9-24(11-17-26,12-18-27)13-19-28)8-4-6-10-25(14-20-29,15-21-30)16-22-31;;;/h3-6,26-31H,7-22H2,1-2H3;3*1H/q+3;;;/p-3/b5-3+,6-4+;;; |
| InChIKey | OTIWYSKRSMXGNK-VHJGTCNUSA-K |
| SMILES | C[N+](C)(CC=CC[N+](CCO)(CCO)CCO)CC=CC[N+](CCO)(CCO)CCO.[Cl-].[Cl-].[Cl-] |