Polyinosinic-polycytidylic Acid (potassium salt) - CAS 31852-29-6
Polyinosinic-polycytidylic acid (poly(I:C)) is a synthetic double-stranded RNA (dsRNA) that activates toll-like receptor 3 and retinoic acid inducible gene 1 (RIG-1)-like receptors, including RIG-1 and melanoma differentiation associated gene 5. Through these actions, poly(I:C) activates NF-κB, induces IFN-α, promotes dendritic cell maturation, and stimulates both innate and adaptive immunity. As poly(I:C) imitates dsRNA found in some viral genomes, it bolsters immune defense against certain viruses. Poly(I:C) also directly triggers apoptosis in some cancer cells.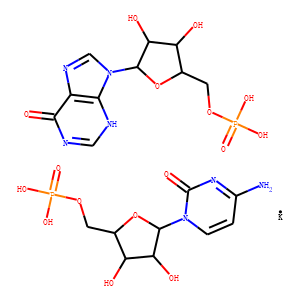 Molecular Formula: C19H27KN7O16P2
Molecular Weight:710.504
* For research use only. Not for human or veterinary use.
Synonym
Property
| | |
| --- | --- |
| Molecular Formula: | C19H27KN7O16P2 |
| Molecular Weight | 710.504 |
| Purity | ≥95% |
| Storage | -20°C |
Computed Descriptor
| | |
| --- | --- |
| IUPAC Name | [(2R,3S,4R,5R)-5-(4-amino-2-oxopyrimidin-1-yl)-3,4-dihydroxyoxolan-2-yl]methyl dihydrogen phosphate;[(2R,3S,4R,5R)-3,4-dihydroxy-5-(6-oxo-3H-purin-9-yl)oxolan-2-yl]methyl dihydrogen phosphate;potassium |
| InChI | InChI=1S/C10H13N4O8P.C9H14N3O8P.K/c15-6-4(1-21-23(18,19)20)22-10(7(6)16)14-3-13-5-8(14)11-2-12-9(5)17;10-5-1-2-12(9(15)11-5)8-7(14)6(13)4(20-8)3-19-21(16,17)18;/h2-4,6-7,10,15-16H,1H2,(H,11,12,17)(H2,18,19,20);1-2,4,6-8,13-14H,3H2,(H2,10,11,15)(H2,16,17,18);/t4-,6-,7-,10-;4-,6-,7-,8-;/m11./s1 |
| InChIKey | KHPUABRWHJGXNJ-VRQAYDGLSA-N |
| SMILES | C1=CN(C(=O)N=C1N)C2C(C(C(O2)COP(=O)(O)O)O)O.C1=NC(=O)C2=C(N1)N(C=N2)C3C(C(C(O3)COP(=O)(O)O)O)O.[K] |