Polixetonium chloride - CAS 31512-74-0
Polixetonium chloride (Cat.No:M004017) is a cationic polymer used as an active ingredient in some medical and personal care products. It acts as a disinfectant and antiseptic agent due to its ability to disrupt microbial cell membranes. It is found in certain wound care and oral hygiene formulations.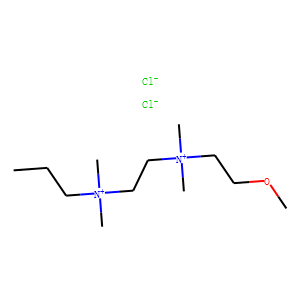 Molecular Formula: C12H30Cl2N2O
Molecular Weight:289.285
* For research use only. Not for human or veterinary use.
Synonym
| | |
| --- | --- |
| Synonyms | Polixetonium chloride;Polyoxy-1,2-ethanediyl(dimethyliminio)-1,2-ethanediyl(dimethyliminio)-1,2-ethanediyl dichloride;MBC 115;Poly(oxyethylene(dimethyliminio)ethylene(dimethylimino)ethylene dichloride);POLY [OXYETHYLENE(DIM ETHYLIMINO)ETHYL ENE(DIMET |
Property
| | |
| --- | --- |
| Molecular Formula: | C12H30Cl2N2O |
| Molecular Weight | 289.285 |
| Purity | ≥95% |
| Storage | -20°C |
Computed Descriptor
| | |
| --- | --- |
| IUPAC Name | 2-[dimethyl(propyl)azaniumyl]ethyl-(2-methoxyethyl)-dimethylazanium;dichloride |
| InChI | InChI=1S/C12H30N2O.2ClH/c1-7-8-13(2,3)9-10-14(4,5)11-12-15-6;;/h7-12H2,1-6H3;2*1H/q+2;;/p-2 |
| InChIKey | AKMCUEHNXUJTGW-UHFFFAOYSA-L |
| SMILES | CCC[N+](C)(C)CC[N+](C)(C)CCOC.[Cl-].[Cl-] |