Podocarpic acid - CAS 5947-49-9
Podocarpic acid (CAT: I004228) is a naturally occurring compound that exhibits a wide range of positive effects. It is recognized as a novel activator of the TRPA1 (Transient Receptor Potential Ankyrin 1) channel. TRPA1 is a sensory receptor involved in pain and inflammation pathways. Podocarpic acid's activation of TRPA1 suggests its potential in modulating pain perception and inflammatory responses. As a natural product, podocarpic acid holds promise as a valuable compound for further investigation and development in the field of pain management and potentially other therapeutic applications.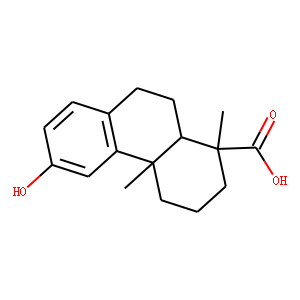 Molecular Formula: C17H22O3
Molecular Weight:274.35
* For research use only. Not for human or veterinary use.
Synonym
| | |
| --- | --- |
| Synonyms | 12-hydroxypodocarpa-8,11,13-trien-16-oic acid; |
Property
| | |
| --- | --- |
| Molecular Formula: | C17H22O3 |
| Molecular Weight | 274.35 |
| Target: | TRPA1 |
| Solubility | DMSO |
| Purity | ≥95% |
| Storage | Room temperature |
Computed Descriptor
| | |
| --- | --- |
| IUPAC Name | (1S,4aS,10aR)-6-hydroxy-1,4a-dimethyl-2,3,4,9,10,10a-hexahydrophenanthrene-1-carboxylic acid |
| InChI | InChI=1S/C17H22O3/c1-16-8-3-9-17(2,15(19)20)14(16)7-5-11-4-6-12(18)10-13(11)16/h4,6,10,14,18H,3,5,7-9H2,1-2H3,(H,19,20)/t14-,16-,17+/m1/s1 |
| InChIKey | VJILEYKNALCDDV-OIISXLGYSA-N |
| SMILES | CC12CCCC(C1CCC3=C2C=C(C=C3)O)(C)C(=O)O |