Pitolisant hydrochloride - CAS 903576-44-3
Pitolisant hydrochloride(CAT: I005406) is a medication used for the treatment of narcolepsy, a sleep disorder characterized by excessive daytime sleepiness and sudden sleep attacks. It works by selectively blocking the histamine H3 receptor, which is involved in regulating wakefulness and sleep. By blocking this receptor, pitolisant increases the levels of histamine and other wake-promoting neurotransmitters in the brain, leading to improved wakefulness and reduced daytime sleepiness. Pitolisant hydrochloride has been shown to be effective and well-tolerated in clinical trials, and is currently approved for use in several countries, including the European Union and the United States.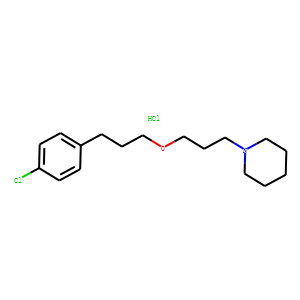 Molecular Formula: C17H26ClNO ? HCl
Molecular Weight:332.3
Purity: ≥95%
Inventory:In stock
* For research use only. Not for human or veterinary use.
Synonym
| | |
| --- | --- |
| Synonyms | 1-[3-[3-(4-chlorophenyl)propoxy]propyl]piperidine;hydrochloride |
Property
| | |
| --- | --- |
| Molecular Formula: | C17H26ClNO ? HCl |
| Molecular Weight | 332.3 |
| Target: | Histamine Receptor |
| Solubility | DMSO: ≥ 43 mg/mL |
| Purity | ≥95% |
| Storage | Store at -20°C |
| Related CAS. | 362665-56-3(free base) |
| Overview of Clinical Research | Pitolisant hydrochloride has been granted orphan drug status in the EU and US. It is currently in clinical trials for schizophrenia and Parkinson/'s disease. |
| IC50 | 0.16 nM (Ki value); 1.5 nM (EC50) [1] |
Computed Descriptor
| | |
| --- | --- |
| InChI | InChI=1S/C17H26ClNO.ClH/c18-17-9-7-16(8-10-17)6-4-14-20-15-5-13-19-11-2-1-3-12-19;/h7-10H,1-6,11-15H2;1H |
| InChIKey | XLFKECRRMPOAQS-UHFFFAOYSA-N |
| SMILES | ClC1=CC=C(CCCOCCCN2CCCCC2)C=C1.Cl |