Picric acid - CAS 88-89-1
Picric acid (Cat.No:R069657) is a chemical compound known for its explosive properties and use as a yellow dye. When water is added to picric acid, it becomes less sensitive to shock and friction, reducing its explosive potential. It has applications in chemical analysis and as a dye in the textile industry.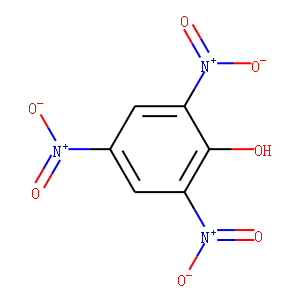 Molecular Formula: C6H2(NO2)3OH
Molecular Weight:229.104
* For research use only. Not for human or veterinary use.
Synonym
| | |
| --- | --- |
| Synonyms | C.I.# 10305, 2.4.6-Trinitrophenol |
Property
| | |
| --- | --- |
| Molecular Formula: | C6H2(NO2)3OH |
| Molecular Weight | 229.104 |
| Purity | ≥95% |
| Storage | RT |
Computed Descriptor
| | |
| --- | --- |
| IUPAC Name | 2,4,6-trinitrophenol |
| InChI | InChI=1S/C6H3N3O7/c10-6-4(8(13)14)1-3(7(11)12)2-5(6)9(15)16/h1-2,10H |
| InChIKey | OXNIZHLAWKMVMX-UHFFFAOYSA-N |
| SMILES | C1=C(C=C(C(=C1[N+](=O)[O-])O)[N+](=O)[O-])[N+](=O)[O-] |