Picotamide - CAS 32828-81-2
Picotamide is an antiplatelet drug that inhibits both thromboxane A2 (TXA2) receptors (Kd = 325 nM) and TXA2 synthase. It significantly inhibits basal and lipopolysaccharide-stimulated TXA2 synthesis by rat peritoneal macrophages when used at 0.5 mM. Formulations containing picotamide have potential applications in the reduction of peripheral artery disease in patients with diabetes.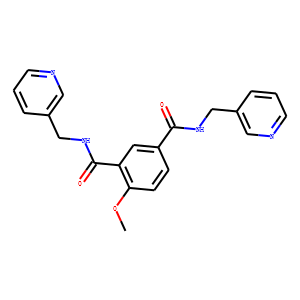 Molecular Formula: C21H20N4O3
Molecular Weight:376.416
* For research use only. Not for human or veterinary use.
Synonym
| | |
| --- | --- |
| Synonyms | 4-methoxy-N1,N3-bis(3-pyridinylmethyl)-1,3-benzenedicarboxamide |
Property
| | |
| --- | --- |
| Molecular Formula: | C21H20N4O3 |
| Molecular Weight | 376.416 |
| Purity | ≥95% |
| Storage | Room temperature |
Computed Descriptor
| | |
| --- | --- |
| IUPAC Name | 4-methoxy-1-N,3-N-bis(pyridin-3-ylmethyl)benzene-1,3-dicarboxamide |
| InChI | InChI=1S/C21H20N4O3/c1-28-19-7-6-17(20(26)24-13-15-4-2-8-22-11-15)10-18(19)21(27)25-14-16-5-3-9-23-12-16/h2-12H,13-14H2,1H3,(H,24,26)(H,25,27) |
| InChIKey | KYWCWBXGRWWINE-UHFFFAOYSA-N |
| SMILES | COC1=C(C=C(C=C1)C(=O)NCC2=CN=CC=C2)C(=O)NCC3=CN=CC=C3 |