Phosphoric Acid Monosodium Salt Dihydrate - CAS 13472-35-0
Phosphoric acid monosodium salt dihydrate(CAT: R035083) is a chemical compound used primarily in laboratory research and analytical chemistry. It is a salt that can be employed as a buffer or reagent in various chemical and biochemical processes. While it may not have direct applications in pharmaceuticals, cosmetics, or agriculture, its role as a reagent in chemical analysis is significant.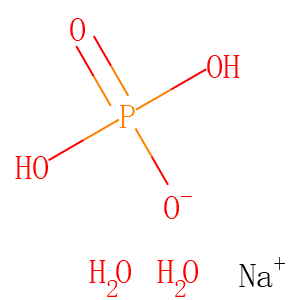 Molecular Formula: H6NaO6P
Molecular Weight:156.006
* For research use only. Not for human or veterinary use.
Synonym
| | |
| --- | --- |
| Synonyms | Phosphoric Acid Sodium Salt Hydrate (1:1:2); Monosodium Dihydrogen ?Phosphate Dihydrate; Monosodium Phosphate Dihydrate; Sodium Dihydrogen Phosphate Dihydrate; Sodium Phosphate Monobasic Dihydrate |
Property
| | |
| --- | --- |
| Molecular Formula: | H6NaO6P |
| Molecular Weight | 156.006 |
| Purity | ≥95% |
| Storage | -20°C |
Computed Descriptor
| | |
| --- | --- |
| IUPAC Name | sodium;dihydrogen phosphate;dihydrate |
| InChI | InChI=1S/Na.H3O4P.2H2O/c;1-5(2,3)4;;/h;(H3,1,2,3,4);2*1H2/q+1;;;/p-1 |
| InChIKey | VBJGJHBYWREJQD-UHFFFAOYSA-M |
| SMILES | O.O.OP(=O)(O)[O-].[Na+] |