phenylethyl resorcinol - CAS 85-27-8
Phenylethyl Resorcinol(CAT: R042450), also known as SymWhite 377, is a whitening and brightening ingredient used in skin care products, hair brightening products, and cosmetics. As an antioxidant, it can effectively affect pigmentation. This product is used for personal care products, medical research and development, and other scientific purposes.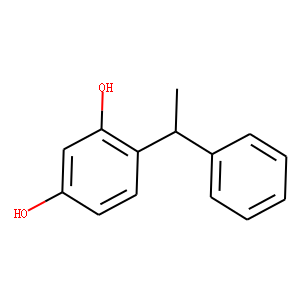 Molecular Formula: C14H14O2
Molecular Weight:214.264
* For research use only. Not for human or veterinary use.
Synonym
| | |
| --- | --- |
| Synonyms | 4-(1-phenylethyl)benzene-1,3-diol; 4-(alpha-Methylbenzyl)resorcinol. |
Property
| | |
| --- | --- |
| Molecular Formula: | C14H14O2 |
| Molecular Weight | 214.264 |
| Purity | ≥95% |
| Storage | -20°C |
Computed Descriptor
| | |
| --- | --- |
| IUPAC Name | 4-(1-phenylethyl)benzene-1,3-diol |
| InChI | InChI=1S/C14H14O2/c1-10(11-5-3-2-4-6-11)13-8-7-12(15)9-14(13)16/h2-10,15-16H,1H3 |
| InChIKey | PQSXNIMHIHYFEE-UHFFFAOYSA-N |
| SMILES | CC(C1=CC=CC=C1)C2=C(C=C(C=C2)O)O |