PF-3644022 - CAS 1276121-88-0
PF-3644022 is a potent, ATP-competitive inhibitor of mitogen-activated protein kinase (MAPK)-activated protein kinase-2 (MK2) (IC50 = 5.2 nM; Ki = 3 nM). PF-3644022 inhibits tumor necrosis factor α (TNFα) production in U937 monocytic cells and peripheral blood mononuclear cells (PBMCs) (IC50 = 160 nM).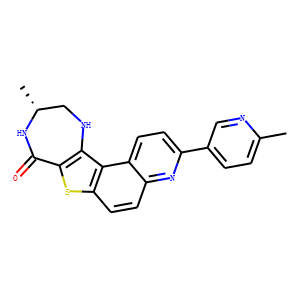 Molecular Formula: C21H18N4OS
Molecular Weight:374.46
* For research use only. Not for human or veterinary use.
Synonym
| | |
| --- | --- |
| Synonyms | (10R)-9,10,11,12-Tetrahydro-10-methyl-3-(6-methyl-3-pyridinyl)-8H-[1,4]diazepino[5',6':4,5]thieno[3,2-f]quinolin-8-one; |
Property
| | |
| --- | --- |
| Molecular Formula: | C21H18N4OS |
| Molecular Weight | 374.46 |
| Target: | MAPKAPK |
| Solubility | Soluble in DMSO > 10 mM |
| Purity | ≥95% |
| Storage | Store at +4C |
Computed Descriptor
| | |
| --- | --- |
| InChI | InChI=1S/C21H18N4OS/c1-11-3-4-13(10-22-11)15-6-5-14-16(25-15)7-8-17-18(14)19-20(27-17)21(26)24-12(2)9-23-19/h3-8,10,12,23H,9H2,1-2H3,(H,24,26)/t12-/m1/s1 |
| InChIKey | CMWRPDHVGMHLSZ-GFCCVEGCSA-N |
| SMILES | O=C1C2=C(C3=C(S2)C=CC4=NC(C5=CC=C(C)N=C5)=CC=C34)NC[C@@H](C)N1 |