Pentostatin - CAS 53910-25-1
Pentostatin(CAT: I003974), also known as deoxycoformycin, is a chemotherapy drug used to treat hairy cell leukemia, a rare type of blood cancer. It works by inhibiting the enzyme adenosine deaminase, which is necessary for the growth and survival of cancer cells. Pentostatin is typically administered intravenously and can have significant side effects, including low blood cell counts, nausea, vomiting, and fever. It is considered a relatively effective treatment for hairy cell leukemia, with a high response rate and a potential for durable remission.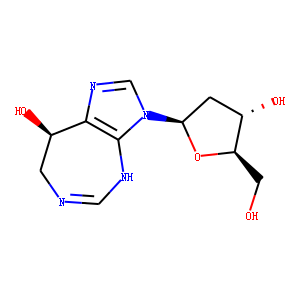 Molecular Formula: C11H16N4O4
Molecular Weight:268.3
* For research use only. Not for human or veterinary use.
Synonym
| | |
| --- | --- |
| Synonyms | (8R)-3-[(2R,4S,5R)-4-hydroxy-5-(hydroxymethyl)oxolan-2-yl]-7,8-dihydro-4H-imidazo[4,5-d][1,3]diazepin-8-ol |
Property
| | |
| --- | --- |
| Molecular Formula: | C11H16N4O4 |
| Molecular Weight | 268.3 |
| Target: | Adenosine Receptor |
| Solubility | 100 mM in water; 75 mM in DMSO; |
| Purity | ≥95% |
| Storage | Store at -20°C |
| IC50 | 2.5 pM |
Computed Descriptor
| | |
| --- | --- |
| InChI | InChI=1S/C11H16N4O4/c16-3-8-6(17)1-9(19-8)15-5-14-10-7(18)2-12-4-13-11(10)15/h4-9,16-18H,1-3H2,(H,12,13)/t6-,7+,8+,9-/m0/s1 |
| InChIKey | FPVKHBSQESCIEP-JQCXWYLXSA-N |
| SMILES | OC[C@@H]1[C@@H](O)C[C@H](N2C=NC3=C2NC=NC[C@H]3O)O1 |