Pentamidine Isethionate- CAS 140-64-7
Pentamidine Isethionate(CAT: A000242) is an aromatic amidine derivative. It is commonly used as an antimicrobial agent or an antiparasitic agent, and in recent years has also been studied as an antitumor agent. This product is used for medical research and development and other scientific purposes.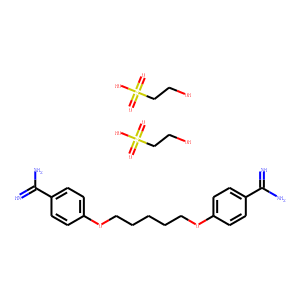 Molecular Formula: C23H36N4O10S2
Molecular Weight:592.68
* For research use only. Not for human or veterinary use.
Synonym
| | |
| --- | --- |
| Synonyms | 140-64-7; Pentamidine isethionate salt; 4,4/'-(Pentane-1,5-diylbis(oxy))dibenzimidamide bis(2-hydroxyethanesulfonate); Pentamidine diisethionate; Pentacarinat |
Property
| | |
| --- | --- |
| Molecular Formula: | C23H36N4O10S2 |
| Molecular Weight | 592.68 |
| Target: | Antibiotic |
| Solubility | >22.6mg/mL in DMSO |
| Purity | ≥95% |
| Storage | Store at -20°C |
Computed Descriptor
| | |
| --- | --- |
| InChI | 1S/C19H24N4O2.2C2H6O4S/c20-18(21)14-4-8-16(9-5-14)24-12-2-1-3-13-25-17-10-6-15(7-11-17)19(22)23;2*3-1-2-7(4,5)6/h4-11H,1-3,12-13H2,(H3,20,21)(H3,22,23);2*3H,1-2H2,(H,4,5,6) |
| InChIKey | YBVNFKZSMZGRAD-UHFFFAOYSA-N |
| SMILES | C1=CC(=CC=C1C(=N)N)OCCCCCOC2=CC=C(C=C2)C(=N)N.C(CS(=O)(=O)O)O.C(CS(=O)(=O)O)O |