Panose - CAS 33401-87-5
Panose (Cat.No:L004229) is a vital carbohydrate with applications in the food industry. Classified as a tetrasaccharide, it serves as a useful reference compound for understanding complex carbohydrate structures. Its unique arrangement of glucose units distinguishes it from other oligosaccharides. Panose has gained importance in nutritional research, offering insights into digestion and absorption processes.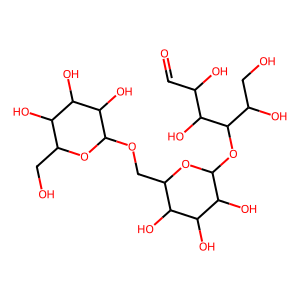 Molecular Formula: C18H32O16
Molecular Weight:504.4
* For research use only. Not for human or veterinary use.
Property
| | |
| --- | --- |
| Molecular Formula: | C18H32O16 |
| Molecular Weight | 504.4 |
| Purity | ≥95% |
Computed Descriptor
| | |
| --- | --- |
| IUPAC Name | (2R,3R,4R,5R)-2,3,5,6-tetrahydroxy-4-[(2R,3R,4S,5S,6R)-3,4,5-trihydroxy-6-[[(2S,3R,4S,5S,6R)-3,4,5-trihydroxy-6-(hydroxymethyl)oxan-2-yl]oxymethyl]oxan-2-yl]oxyhexanal |
| InChI | InChI=1S/C18H32O16/c19-1-5(22)9(24)16(6(23)2-20)34-18-15(30)13(28)11(26)8(33-18)4-31-17-14(29)12(27)10(25)7(3-21)32-17/h1,5-18,20-30H,2-4H2/t5-,6+,7+,8+,9+,10+,11+,12-,13-,14+,15+,16+,17-,18+/m0/s1 |
| InChIKey | ZCLAHGAZPPEVDX-MQHGYYCBSA-N |
| SMILES | C([C@@H]1[C@H]([C@@H]([C@H]([C@H](O1)OC[C@@H]2[C@H]([C@@H]([C@H]([C@H](O2)O[C@H]([C@@H](CO)O)[C@@H]([C@H](C=O)O)O)O)O)O)O)O)O)O |