Ouabain - CAS 630-60-4
Ouabain(CAT: M015250) is a cardiac glycoside compound that is derived from the seeds and leaves of the African plant Strophanthus gratus and has been used traditionally as a medicinal plant for centuries. Ouabain has been shown to have potent effects on the heart, increasing the force and rate of cardiac contractions. It achieves this effect by inhibiting the sodium-potassium ATPase pump in cardiac myocytes, leading to an increase in intracellular sodium concentration and a subsequent increase in intracellular calcium concentration, which ultimately results in increased cardiac contractility. Ouabain has also been shown to have other biological activities, such as antitumor and anti-inflammatory effects, and is used as a research tool in the study of various biological processes.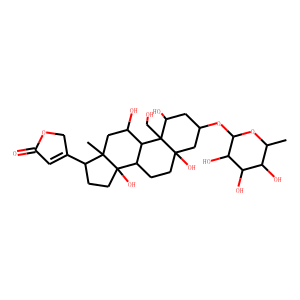 Molecular Formula: C29H44O12
Molecular Weight:584.659
* For research use only. Not for human or veterinary use.
Synonym
| | |
| --- | --- |
| Synonyms | QUABAIN;PUROSTROPHAN;STROPHANTHIN, G-;OUABAIN;(1beta,3beta,5beta,11alpha)-ahydroxy;(1beta,3beta,5beta,11alpha)-hydroxy;3-((6-deoxy-alpha-l-mannopyranosyl)oxy)-1,5,11alpha,14,19-pentahydroxycard-20(;3-[(6-deoxy-.alpha.-L-mannopyranosyl)oxy]-1,5,11,14, |
Property
| | |
| --- | --- |
| Molecular Formula: | C29H44O12 |
| Molecular Weight | 584.659 |
| Target: | Sodium Channel |
| Solubility | Soluble in DMSO > 10 mM |
| Purity | ≥95% |
| Storage | <label class= |
Computed Descriptor
| | |
| --- | --- |
| IUPAC Name | 3-[(1R,3S,5S,8R,9S,10R,11R,13R,14S,17R)-1,5,11,14-tetrahydroxy-10-(hydroxymethyl)-13-methyl-3-[(2R,3R,4R,5R,6S)-3,4,5-trihydroxy-6-methyloxan-2-yl]oxy-2,3,4,6,7,8,9,11,12,15,16,17-dodecahydro-1H-cyclopenta[a]phenanthren-17-yl]-2H-furan-5-one |
| InChI | InChI=1S/C29H44O12/c1-13-22(34)23(35)24(36)25(40-13)41-15-8-19(32)28(12-30)21-17(3-5-27(28,37)9-15)29(38)6-4-16(14-7-20(33)39-11-14)26(29,2)10-18(21)31/h7,13,15-19,21-25,30-32,34-38H,3-6,8-12H2,1-2H3/t13-,15-,16+,17+,18+,19+,21+,22-,23+,24+,25-,26+,27-,28+,29-/m0/s1 |
| InChIKey | LPMXVESGRSUGHW-HBYQJFLCSA-N |
| SMILES | CC1C(C(C(C(O1)OC2CC(C3(C4C(CCC3(C2)O)C5(CCC(C5(CC4O)C)C6=CC(=O)OC6)O)CO)O)O)O)O |