Orlistat - CAS 96829-58-2
Orlistat (CAT: A000657) is a pharmaceutical compound used to manage obesity. It functions as a lipase inhibitor, which means it reduces the absorption of dietary fats in the digestive system. Orlistat is commonly prescribed as a weight-loss medication to help individuals who are overweight or obese lose excess body fat. It works by blocking the enzymes that break down fats in the intestine, thereby reducing the number of calories absorbed from dietary fat.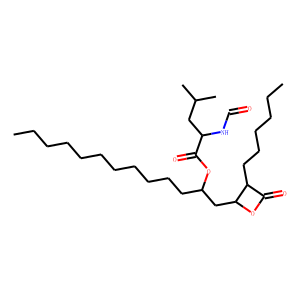 Molecular Formula: C₂₉H₅₃NO₅
Molecular Weight:495.73
* For research use only. Not for human or veterinary use.
Synonym
| | |
| --- | --- |
| Synonyms | 96829-58-2; Tetrahydrolipstatin; Xenical; Alli; Orlipastat |
Property
| | |
| --- | --- |
| Molecular Formula: | C₂₉H₅₃NO₅ |
| Molecular Weight | 495.73 |
| Target: | lipase inhibitor |
| Purity | ≥95% |
| Storage | -20°C |
| MDL | MFCD05662360 |
Computed Descriptor
| | |
| --- | --- |
| InChI | InChI=1S/C29H53NO5/c1-5-7-9-11-12-13-14-15-16-18-24(34-29(33)26(30-22-31)20-23(3)4)21-27-25(28(32)35-27)19-17-10-8-6-2/h22-27H,5-21H2,1-4H3,(H,30,31)/t24-,25-,26-,27-/m0/s1 |
| InChIKey | AHLBNYSZXLDEJQ-FWEHEUNISA-N |
| SMILES | CCCCCCCCCCCC(CC1C(C(=O)O1)CCCCCC)OC(=O)C(CC(C)C)NC=O |