Olivetolic Acid - CAS 491-72-5
Olivetolic Acid (CAT: R045847) is a carboxylic acid derivative that can be used as an organic chemical raw material for the preparation of pharmaceutical intermediates, mainly for scientific research.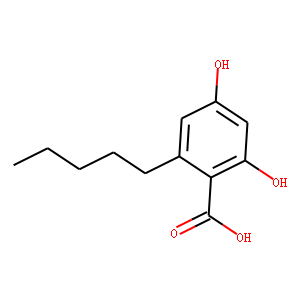 Molecular Formula: C12H16O4
Molecular Weight:224.256
* For research use only. Not for human or veterinary use.
Synonym
| | |
| --- | --- |
| Synonyms | 6-Pentyl-β-resorcylic Acid; 2,4-Dihydroxy-6-pentylbenzoic Acid; Allazetolcarboxylic Acid; Olivetolcarboxylic Acid |
Property
| | |
| --- | --- |
| Molecular Formula: | C12H16O4 |
| Molecular Weight | 224.256 |
| Purity | ≥95% |
| Storage | Room temperature |
Computed Descriptor
| | |
| --- | --- |
| IUPAC Name | 2,4-dihydroxy-6-pentylbenzoic acid |
| InChI | InChI=1S/C12H16O4/c1-2-3-4-5-8-6-9(13)7-10(14)11(8)12(15)16/h6-7,13-14H,2-5H2,1H3,(H,15,16) |
| InChIKey | SXFKFRRXJUJGSS-UHFFFAOYSA-N |
| SMILES | CCCCCC1=CC(=CC(=C1C(=O)O)O)O |