Octaethylporphyrin - CAS 2683-82-1
Octaethylporphyrin(CAT: I008398) is a synthetic compound that belongs to the family of porphyrins, which are organic molecules that play a critical role in biological processes such as photosynthesis and oxygen transport in the blood. Octaethylporphyrin is often used as a model compound for studying the chemical and physical properties of natural porphyrins due to their structural similarity. It has been investigated for a range of applications including catalysis, photodynamic therapy, and sensing of metal ions. Octaethylporphyrin is typically a dark red solid and is soluble in organic solvents such as chloroform and methanol.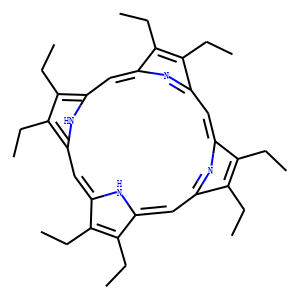 Molecular Formula: C36H46N4
Molecular Weight:534.792
* For research use only. Not for human or veterinary use.
Synonym
| | |
| --- | --- |
| Synonyms | Octaethyl-porphyrin; Octaethylporphyrin; Octaethyl porphyrin;2,3,7,8,12,13,17,18-octaethylporphyrin |
Property
| | |
| --- | --- |
| Molecular Formula: | C36H46N4 |
| Molecular Weight | 534.792 |
| Solubility | Soluble in DMSO, not in water |
| Purity | ≥95% |
| Storage | Store at -20°C |
Computed Descriptor
| | |
| --- | --- |
| IUPAC Name | 2,3,7,8,12,13,17,18-octaethyl-21,22-dihydroporphyrin |
| InChI | InChI=1S/C36H46N4/c1-9-21-22(10-2)30-18-32-25(13-5)26(14-6)34(39-32)20-36-28(16-8)27(15-7)35(40-36)19-33-24(12-4)23(11-3)31(38-33)17-29(21)37-30/h17-20,37-38H,9-16H2,1-8H3 |
| InChIKey | XFIIGRBIXXECHR-UHFFFAOYSA-N |
| SMILES | CCC1=C(C2=CC3=NC(=CC4=NC(=CC5=C(C(=C(N5)C=C1N2)CC)CC)C(=C4CC)CC)C(=C3CC)CC)CC |