NSI-189 - CAS 1270138-40-3
NSI-189 (CAT:I008377) is a niacinamide piperazine derivative. It can stimulate the neurogenesis of human hippocampal neural stem cells, so it is promising for major depression, Alzheimer's disease, center and other brain diseases. This product is used for organic synthesis, drug development, and other scientific research purposes.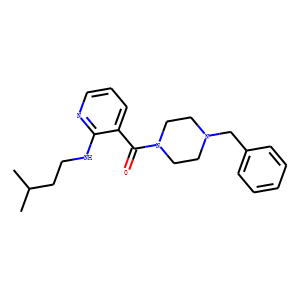 Molecular Formula: C22H30N4O
Molecular Weight:366.4998
* For research use only. Not for human or veterinary use.
Synonym
| | |
| --- | --- |
| Synonyms | ;(4-benzylpiperazin-1-yl)(2-(isopentylamino)pyridin-3-yl)methanone |
Property
| | |
| --- | --- |
| Molecular Formula: | C22H30N4O |
| Molecular Weight | 366.4998 |
| Solubility | Soluble in DMSO, not in water |
| Purity | ≥95% |
| Storage | 0 - 4 °C for short term, or -20 °C for long term |
| Overview of Clinical Research | Originator Neuralstem <br>Developer Palisade Bio; University of California, San Diego <br>Class Antidepressants; Antihyperglycaemics; Neuroprotectants; Nootropics; Piperazines; Pyridines; Small molecules; Vascular disorder therapies <br>Mechanism of Action Neurogenesis stimulants <br>Orphan Drug StatusYes – Angelman syndrome <br>New Molecular Entity Yes <br>Available For Licensing Yes |
Computed Descriptor
| | |
| --- | --- |
| IUPAC Name | (4-benzylpiperazin-1-yl)-[2-(3-methylbutylamino)pyridin-3-yl]methanone |
| InChI | InChI=1S/C22H30N4O/c1-18(2)10-12-24-21-20(9-6-11-23-21)22(27)26-15-13-25(14-16-26)17-19-7-4-3-5-8-19/h3-9,11,18H,10,12-17H2,1-2H3,(H,23,24) |
| InChIKey | DYTOQURYRYYNOR-UHFFFAOYSA-N |
| SMILES | O=C(N1CCN(CC2=CC=CC=C2)CC1)C3=CC=CN=C3NCCC(C)C |