Nonapeptide-1 - CAS 158563-45-2
Nonapeptide-1 (CAT: I033426), also known as Melanostatine™ 5, is a proprietary peptide initially recognized for its antimicrobial properties. Through animal studies, it has been revealed that nonapeptide-1 possesses the ability to hinder the synthesis of melanin, making it a promising candidate for addressing specific skin conditions. Preclinical research indicates that nonapeptide-1 has the potential to effectively diminish the production of melanin, leading to a significant reduction in skin pigmentation.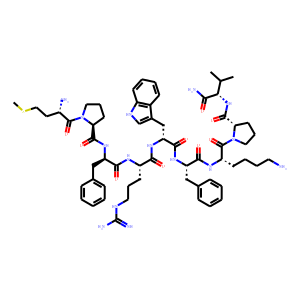 Molecular Formula: C61H87N15O9S
Molecular Weight:1206.52
* For research use only. Not for human or veterinary use.
Synonym
| | |
| --- | --- |
| Synonyms | Nonapeptide-1; Nonapeptide 1; Nonapeptide1; Met-pro-phe-arg-trp-phe-lys-pro-val; White 05; Melanostatine 5; Melanostatine-5 |
Property
| | |
| --- | --- |
| Molecular Formula: | C61H87N15O9S |
| Molecular Weight | 1206.52 |
| Solubility | Soluble in DMSO |
| Purity | 98.0% |
| Storage | Dry, dark and at 0 - 4 C for short term (days to weeks) or -20 C for long term (months to years). |
Computed Descriptor
| | |
| --- | --- |
| IUPAC Name | (S)-1-(L-methionyl)-N-((R)-1-(((S)-1-(((R)-1-(((S)-1-(((S)-6-amino-1-((S)-2-(((S)-1-amino-3-methyl-1-oxobutan-2-yl)carbamoyl)pyrrolidin-1-yl)-1-oxohexan-2-yl)amino)-1-oxo-3-phenylpropan-2-yl)amino)-3-(1H-indol-3-yl)-1-oxopropan-2-yl)amino)-5-guanidino-1-oxopentan-2-yl)amino)-1-oxo-3-phenylpropan-2-yl)pyrrolidine-2-carboxamide |
| InChI | InChI=1S/C61H87N15O9S/c1-37(2)51(52(64)77)74-58(83)50-26-16-31-76(50)60(85)45(23-12-13-28-62)70-55(80)46(33-38-17-6-4-7-18-38)71-56(81)48(35-40-36-68-43-22-11-10-21-41(40)43)72-53(78)44(24-14-29-67-61(65)66)69-54(79)47(34-39-19-8-5-9-20-39)73-57(82)49-25-15-30-75(49)59(84)42(63)27-32-86-3/h4-11,17-22,36-37,42,44-51,68H,12-16,23-35,62-63H2,1-3H3,(H2,64,77)(H,69,79)(H,70,80)(H,71,81)(H,72,78)(H,73,82)(H,74,83)(H4,65,66,67)/t42-,44-,45-,46-,47+,48+,49-,50-,51-/m0/s1 |
| InChIKey | KNFLNGRLKALWRF-LDXSYGEZSA-N |
| SMILES | CC(C)[C@@H](C(N)=O)NC([C@H]1N(C([C@H](CCCCN)NC([C@H](CC2=CC=CC=C2)NC([C@@H](CC3=CNC4=C3C=CC=C4)NC([C@H](CCCNC(N)=N)NC([C@@H](CC5=CC=CC=C5)NC([C@H]6N(C([C@H](CCSC)N)=O)CCC6)=O)=O)=O)=O)=O)=O)CCC1)=O |