N,N-DIMETHYL-N-PHENETHYLAMINE - CAS 1126-71-2
N, N-Dimethyl-N-phenethylamine(Cat No.:M047743), is a chemical compound often referred to as N-methylphenethylamine or N-Methylbenzylamine. It belongs to the class of organic amines and features a phenethylamine structure with two methyl groups attached to the amine nitrogen atom. This compound has applications in the field of organic chemistry as a building block for various pharmaceuticals and chemicals. Its synthesis and properties make it a valuable intermediate for the development of diverse compounds, including drugs and industrial materials. Researchers and chemists often utilize N, N-Dimethyl-N-phenethylamine in their work to create novel substances.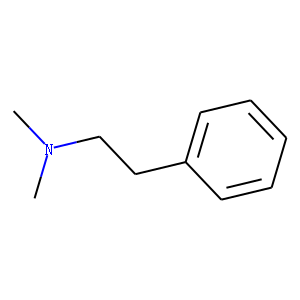 Molecular Formula: C10H15N
Molecular Weight:149.23
* For research use only. Not for human or veterinary use.
Property
| | |
| --- | --- |
| Molecular Formula: | C10H15N |
| Molecular Weight | 149.23 |
| Purity | ≥95% |
| Storage | -20°C |
Computed Descriptor
| | |
| --- | --- |
| IUPAC Name | N,N-dimethyl-2-phenylethanamine |
| InChI | InChI=1S/C10H15N/c1-11(2)9-8-10-6-4-3-5-7-10/h3-7H,8-9H2,1-2H3 |
| InChIKey | TXOFSCODFRHERQ-UHFFFAOYSA-N |
| SMILES | CN(C)CCC1=CC=CC=C1 |