Nitrilotris(methylene)triphosphonic Acid - CAS 6419-19-8
Nitrilotris (methylene) triphosphonic Acid (Cat. No: R046816), also known as Amino tris (methylene phosphonic acid) (ATMP), is an organophosphine compound with excellent chelation, low-limit inhibition and lattice distortion effects.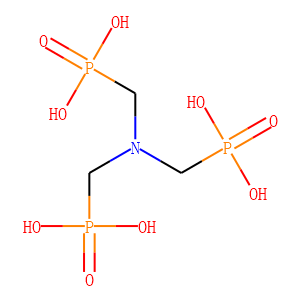 Molecular Formula: C3H12NO9P3
Molecular Weight:299.048
* For research use only. Not for human or veterinary use.
Synonym
| | |
| --- | --- |
| Synonyms | P,P',P''-[nitrilotris(methylene)]trisphosphonic Acid; 1,1,1-Nitrilotris(methylphosphonic Acid); ATMP; Aminotri(methylenephosphonic Acid); Briquest 301; NTPH; Nitrilo-?N,N,N-trimethylenephosphonic Acid; Tris(phosphonomethyl)amine; Sequion 20H45; Sequi |
Property
| | |
| --- | --- |
| Molecular Formula: | C3H12NO9P3 |
| Molecular Weight | 299.048 |
| Purity | ≥95% |
| Storage | -20°C |
Computed Descriptor
| | |
| --- | --- |
| IUPAC Name | [bis(phosphonomethyl)amino]methylphosphonic acid |
| InChI | InChI=1S/C3H12NO9P3/c5-14(6,7)1-4(2-15(8,9)10)3-16(11,12)13/h1-3H2,(H2,5,6,7)(H2,8,9,10)(H2,11,12,13) |
| InChIKey | YDONNITUKPKTIG-UHFFFAOYSA-N |
| SMILES | C(N(CP(=O)(O)O)CP(=O)(O)O)P(=O)(O)O |